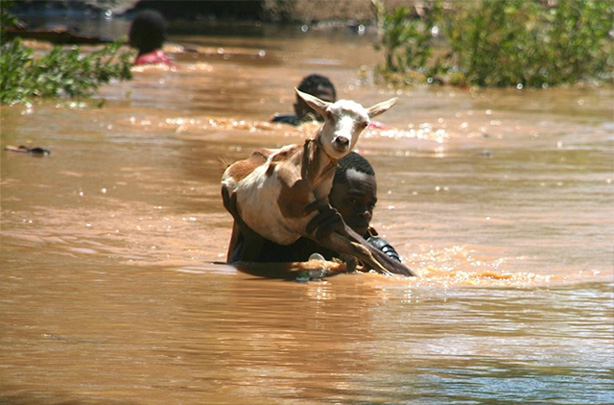 Cooling trucks are popular in cities around the world – for transportation of perishable goods at given temperatures.  They however, are not as popular as tank trucks, identified by their spherical shape, delivering content to places and communities.  Cooling trucks have a separate system, aside the engine that keeps them going.
Tank trucks have content, and deliver to destinations without any process. The size and shape of tank trucks and the 'system' of cooling trucks brings to mind a new setup for flood and erosion management: mobile water-steam conversion system.
Floods and erosion are difficult situations for Africa – during rainfall and after. They also result from opening of dams and river overflow. Replacing tanks behind trucks with a system to take in water, process, convert to steam and let out within seconds, may be the answer to devastating floods and erosion occurring in Africa – every year.
A known water-steam conversion system is steam boiler. Steam boilers are pressure vessels used to heat water or produce steam. Their output can be used for space or service water heating in buildings. Steam boilers vary by size, shape, component and heating method.
There are electric steam boilers, furnace steam boilers and nuclear fission steam boilers. For conveyance, safety and workability, electric steam boiler technology is preferred for flood trucks.
Tank space would contain the boiler system, with an inlet, to draw in water, and outlet, to let steam out. Water will be drawn in at 10 meters per second, and will pass through a three stage process to give off steam. Incoming water will enter into a distillation area of low pressure and mid-temperature, before passing through the immersion heating element of the boiler – to be converted to steam – then the outlet.
The system is expected to be 95% efficient processing up 20 liters of water per minute. The system will be insulated from the external environment, and will be powered by batteries – similar to those used in electric vehicles.
They will be charged before deployment to flood or erosion scene, and operate there for 3 – 5 hours before recharging or before the next session. Trucks will work better after rainfall. During rainfall however, outlet would be horizontal and the system will have to be more efficient, because of external temperature and other weather factors.
Two to three to four trucks can be used at a place, to hasten vaporisation of water. The trucks, vaporising water, is similar to what occurs after rainfall; effects on the weather and environment is not expected to be negative.
Flood trucks for Nigeria and the rest of sub-Saharan Africa, maybe the lasting solution to flood and erosion – a situation that wrecks lives and properties perennially. It may be extended to other parts of the tropics and temperate areas – during summer.
It would take a school, or research center, a few months to develop the first prototype. Design of the truck, its mode of operation and meteorological impacts will be seen in an upcoming research paper. A university, a research institute or firm, may decide to support development of this, understanding how it could deliver Africa, in the near term and in future.
Trucks will be designed in Africa, assembled in Asia, and brought back to Africa, to sell to governments, corporations, and foundations. Flood trucks and some of the presently used flood control methods, sandless sandbags, etc., will assist in development of sub-Saharan Africa – health and environment wise.