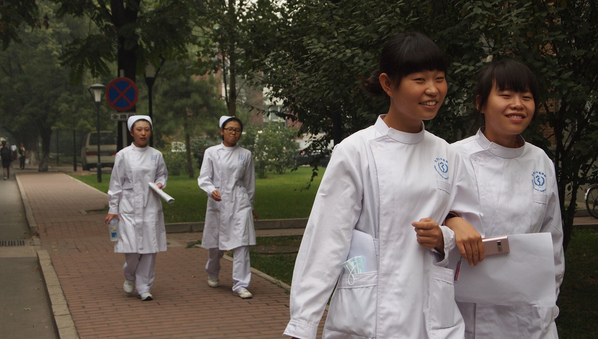 By Li Jiao – SciDev.Net
China plans to improve the health services it provides in Africa and expand its medical aid there, according to the International Cooperation unit at China's National Health and Family Planning Commission.
"We will expand medical aid in Africa, although there are many challenges," Ren Minghui, director general of International Cooperation at China's National Health and Family Planning Commission, tells SciDev.Net.
Further collaboration will be discussed at the Ministerial Forum on China-Africa Health Cooperation in Beijing later this week (16 August).
Ren says he will make changes so that more African patients can be treated, and will also improve the quality of the Chinese researchers in medical teams that go to Africa.
This year marks the 50th anniversary of the first Chinese medical team arriving in Africa. There are more than 1,000 medical researchers providing health services in 42 African countries.
The Chinese government has spent about US$4.9 million on building 30 modern hospitals in Africa. It has also set up more than 30 anti-malaria centres in Africa and spent another US$81 million on medical and anti-malaria equipment.
China aims to improve not only the medical service, but also education and research programmes, teaching African researchers about traditional Chinese medicine.
"China plans to train Africans to understand public health policies, prevention services and key infectious diseases," says Ren.
Ren hopes Chinese local governments, NGOs, enterprises and international organisations can provide financial support for medical aid in Africa.
Some local Chinese governments have built small medical centres in African countries. Jiangsu province, for example, has built several medical centres, including a minimally invasive surgical centre and an ophthalmology centre, in Tanzania.
Kong Qingyu, the leader of a medical team in Guinea and vice-president of An Zhen Hospital of the Capital University of Medical Sciences, says Guinea is "too weak in orthopaedics, cardiology, internal neurology and neurosurgery because the equipment is too expensive".
When his team arrived at the hospital, there were only a few patients in orthopaedics, but after they carried out successful operations, the number of patients increased tenfold and the wards became full, Kong says.
The ministerial meeting this week is expected to yield further collaboration, especially on traditional medicine.
"Several African health ministers have made proposals asking the Chinese government to help them develop their traditional medicine," Ren said at the 4th International Roundtable on China-Africa Health Cooperation in Botswana in May.