By Marshall Comins – AfricanBrains
Appfrica founder and TED Senior Fellow Jon Gosier was once an American lost in Uganda. Now he's a leading young African technologist and a venture capitalist breathing life into continental start-ups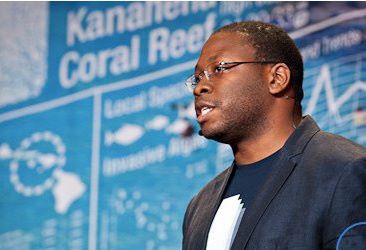 Jon Gosier – Entrepreneur, Investor, Philanthropist, Dataist
After graduating from the Savannah College of Art and Design in 2003, Philadelphia resident Jon Gosier set off for Uganda with his then-girlfriend, who had accepted a job offer with an NGO. Gosier, who later was appointed a TED Fellow in 2009, had a passion for all-things design but, admittedly, "didn't have a plan" for Africa and "was just tagging along," he told African Brains in an interview over the phone.
"I was really just going to support her work," Gosier said. "But while I was there, I met all of these bright African technologists. I realized that there was so much potential. There were so many young and talented guys who couldn't find anyone to employ them, or anyone who would believe in their skills."
The problem hit Gosier hard.
And so began his voyage to become a leading voice in African innovation.
Appfrica: Helping companies do business in Africa
Hoping to put the talent and ambition of these young technologists to good use, Gosier pulled together a group of skilled local programmers and opened Appfrica in the living room of his Ugandan apartment.
Following a rather "ad hoc" business model at the outset, Gosier said, he initially penned contracts with firms and NGOs under his own name, operating primarily as a programming and design outfit. Writing code together with his team, Gosier watched as the demand for his services slowly began to climb.
Over the next year, Gosier realized that he needed a presence in Europe or the United States to facilitate further expansion. His potential client base was based in the West, and these firms demanded face-time with their African partners due to common misconceptions about doing business on the continent.
Opting to move back to the United States in 2010, Gosier set aside his keyboard and took up a "stricter CEO" role, he said, closing deals and serving as an African technology advocate. It was then that Appfrica started to gel. Gosier was invited to speak at TED Oxford in 2009 and was made a TED Senior Fellow the following year. At the time, his blog was also cited as one of the most popular in Africa in 2008-2010.
From 2008 to 2010, Gosier restructured Appfrica into a leading provider of tailored, technology-driven market research for global firms and organizations seeking a foothold on the African continent. He also began to provide data visualization services, which were considered highly innovative for the region.
Data about Africa is in such demand that Appfrica launched a dedicated service, Statfrica, which gathers data from governments, NGOs, and consumers in Africa. Statfrica turns this information into executive reports and contemporary infographics and offers custom market research for clients.
Statfrica remains one of Appfrica's flagship offerings. Over the years, his team's work has been viewed hundreds of thousands of times and cited by publications like Fast Company and the New York Times.
MetaLayer
This same passion for data has helped Gosier establish himself as a top data scientist and entrepreneur.
While working as a director at the revolutionary start-up in Kenya, Ushahidi, from 2009 to 2011, Gosier spearheaded the development of the SwiftRiver data platform that attempted to organize chaotic data-sets generated during crisis events. The project took many forms over the years, but in a recent blog post Ushahidi CEO Erik Hersman said it could no longer afford to maintain SwiftRiver's development.
"I was really passionate about the SwiftRiver project but it never really got the chance it deserved," Gosier said. "It was the type of product that I felt needed to be developed in the private sector from the beginning. Building the project on grants and limited funding just meant that there was this constant struggle to stay funded instead of building great software."
Learning from the experience, Gosier founded MetaLayer, a data start-up that now counts the U.S. Army and ThomsonReuters as customers. Last year, MetaLayer was part of the team that helped Rick Smolan launch his global Human Face of Big Data campaign, which aimed to humanize what often seems like a technical concept. The project was also turned into a book published by Against All Odds Productions.
MetaLayer projects that it will generate $1 million in revenue next year, Gosier said, and boasts investors such as Comcast Ventures and Acceleprise. In 2012, he spoke about his work with MetaLayer and Ushahidi at the leading STRATA world conference on data science in Santa Clara, Califorinia.
"MetaLayer wants to make working with data as easy as, say, posting a photo on Instagram," Gosier said. "Our mission is to offer solutions that enable 'drag-and-drop data science,' so that people don't need to be experts to make data meaningful."
Apps4Africa: A move into venture capital
Appfrica's rapid ascent from bootstrapped start-up to steady-earner inspired Gosier to begin investing in young African technologists who have the requisite skills and determination – and a potentially groundbreaking idea – but lack the necessary financing to bring their project to life.
Apps4Africa was started in late 2009 to provide early stage capital to these young African technologists.
What differentiates Apps4Africa from similar groups, he said, is that it does not just provide financing, but also a wealth of knowledge and personal experience pertaining to building start-ups in Africa.
"I witnessed first-hand how hard – possibly even unfair – it is to operate in an environment that many people are wary of," he said. "After bootstrapping Appfrica, I began investing in African technologists as soon as I could, because these entrepreneurs struggle with the exact same problems that I was facing. I'm fortunate enough to be in a position to make their situation easier."
In the past three years, Apps4Africa has invested in nineteen start-ups. Given the low cost of opening ventures in Africa, the company makes investments of $10,000 to test the waters, pumps in financing when a project shows signs of success, or helps them seek alternative funding if it's not the right fit.
As of today, the company's track record is impressive. Of the nineteen companies that have received start-up capital, 11 are still active and have collectively gone on to raise a combined $1 million.
Apps4Africa's investment portfolio includes both for-profit initiatives and non-profit social ventures.
"In 2011, we invested $15,000 into a project named 'Minishop' from Tanzania," Gosier said. "The founder, Eric Mutta, is trying to solve a very pressing problem for Africa's economy. So many unregistered kiosk owners and vendors set up shop by the road, selling candy, SIM cards, and other goods. These shops comprise a huge portion of the African economy. The problem is that they don't keep any formal records. The storekeepers keep track of everything in their head, or on paper, in which case the records may get lost. Mutta has offered them a way to keep their records on mobiles or laptops with an accessible accounting solution."
Gosier believes that Minishop has the ability to impact the way small businesses operate in Tanzania, and possibly the rest of the continent.
"Minishop is attacking a really big problem in that it is trying help formalize the informal economy in Africa," he said. "Some estimates suggest that 75% of Africans are informally employed – meaning they operate cash-based businesses that aren't registered with governments. Still, the informal economy accounts for huge cashflows that may not even be captured as part of the GDP, so there's a real opportunity to capture revenue while also improving government records."
From harvest to remittances
Apps4Africa was also an early investor in the Kenyan start-up iCow.co.ke – a mobile app founded by Su Kahumbu that allows farmers to maximize their crop yield by providing them with a harvest calendar.
"It's a very simple app," Gosier said. "It has a little calendar that indicates the best time to plant and harvest a crop, etcetera. But by using iCow.co.ke, farmers greatly increased their yield. Some users who are farmers in Kenya reported that they started out earning as little as $75 per month before using iCow, but the figure was scaled up to about $300 (as a result of using iCow). Those are very significant returns for the farmers. Kahumbu recently signed a deal with Safaricom, and now has access to their network, which reaches around 19 million people."
According to Gosier, one of Apps4Africa's most promising new investments is Remit.ug, co-founded by Ugandan Teddy Ruge.
"What the founders of Remit did was look at where African GDP is coming from," he said. "Sixty-four billion dollars of Africa's GDP comes from remittances – we're talking about the entire continent. That's an incredible amount that is being sent through banks, Western Union, Moneygram, by whatever means necessary. But the profits from those transactions do not go to Africa. The financial institutions enabling them are all foreign-owned and -operated."
After looking at these quick-pay services, Gosier said, Ruge wondered: "Why don't we create a service that is Africa-based, with lower fees, that is friendlier to the local environment?" The result was a solution that aims to turn sending remittances into an indigenous industry and a driving force of the economy.
"The real innovation here," Gosier said, "isn't the nuts and bolts of how the transactions are made. For the most part, they're the same. The differentiating factor is that Remit.ug offers lower fees – they are trying to make money on charging less money. Most financial organizations carry a huge premium for sending money to Africa. And people in the diaspora can now send money to their loved-ones, feeling good, knowing they are supporting a business based in Africa."
Today, Remit is only available to a private group of financiers sending money to Uganda. But the team seeks to enter the "public beta" phase in 2014, and will later move toward expanding to other countries.
Looking forward
Labeling Africa the new "Wild West" and a "frontier market that everyone is trying to crack," Gosier said the venture capital scene has changed dramatically since he first moved to the continent in 2008.
"It's really night and day," he said. "Today you have investors like Dave McClure and Paul Bragiel, two of the leading venture capitalists in Silicon Valley, investing in Kenya's Savannah Fund. However, what needs to happen for the market to boom is a hugely successful exit. We've yet to see a really big exit in the African tech sector, but it's coming."
As soon as the world witnesses the first multimillion-dollar sale of the proverbial "Instagram of Africa," Gosier said, investors will flock to the continent. However, the market has its own peculiarities and is distinct from other areas of the world, he said. A thoughtful entry is thus preferred to a reckless dive.
"Its simple math," he said. "There is only so much value that can be extracted from mature markets in developed countries where wealth is really just being redistributed. Big companies fail and a thousand start-ups pop-up to fill the void. In Africa, however, there's room for everything – enterprises, start-ups, SMEs. The market is wide open and African consumers are increasingly hungry, and ready to pay, for quality goods and services. This is all the more reason why global firms need to get serious about Africa."
Fresh off a phone call with Ruge about Remit.ug's plans for the next quarter, Gosier believes that he has picked a winner.
"I don't know if Remit will be the solution that will ultimately win in this space, but they have the right thinking and team to do so," he said.
Watch Gosier's keynote speech at STRATA: