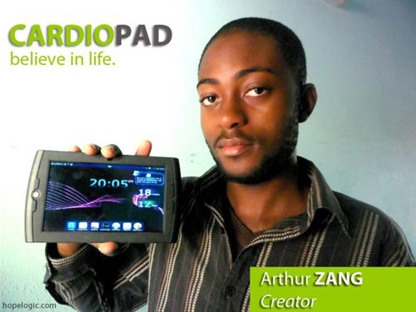 Some of the greatest scientific innovations come about from the need to find solutions to the persisting everyday issues. Such is the story of the Arthur Zeng, a 24-year old Cameroonian engineer, who has built a first fully touch screen medical tablet 'Cardiopad' for distant cardiovascular examination and diagnosis. Arthur Zeng developed his tablet to help Cameroonians fight cardiovascular diseases in areas where access to heart disease specialists is largely unavailable. His story is truly inspiring in ways how the real world problems drive innovative African solutions.
According to the 2004 Annual Report of the World Health Organization (WHO), cardiovascular diseases (CVD) represent a major public health problem in Cameroon as well as in many developing countries. 22 per cent of the overall mortality rate in the country is compounded by the lack of access to cardiac exams, which accounts for over 2 million deaths per year in Central Africa alone.
Cameroon is a country with less than 40 heart specialists for its more than 20 million people. Since all of these doctors are based in the country's political and economic capitals of Yaounde and Douala, many patients have to travel through the entire country for a medical consultation and the appointments have to be made months in advance. A part of the same problem is also a lack of
immediate medical accessibility to many patients, which often leads to the unfortunate deaths of many Cameroonians.
While doing his academic internship at the General Hospital of Yaounde in 2010, Zang became aware of these difficulties that Cameroonians face in accessing care related to heart. It is from this problem that Arthur Zang conceptualised his 'Cardiopad' in 2011, an instrument that enables remote consultation, performance of an electrocardiogram examination (ECG) and access to patients digitally.
To perform an ECG test, the patient attaches electrodes connected to the tablet. The device allows wirelessly transmit the test results from the patient's location in any remote village or nurses office to the specialist who can interpret the results from hundreds of miles away and provide a diagnosis or treatment instantly.
In a featured story on Radio Netherlands Worldwide, Zang explains that this is one of the major differences between a classic ECG and his invention: "The Cardiopad has more functions. With the classic electrocardiograph, the results are usually printed on paper and handed to the cardiologist for interpretation. It was not possible to send or save the results electronically. With the Cardiopad, the results are digitalised and transmitted. There is no need to print them. The heart surgeon can interpret them, even remotely from his tablet, and then send the diagnosis, or the prescribed treatment."
The Cardiopad, therefore, solves several pertinent African problems related to heart health. It eases the difficulty of travel as well as it shortens the time for the specialist to provide a diagnosis to remote locations.
To develop his idea the inventor had to design a system for acquiring, processing and transmitting the cardiac signal via mobile network (GSM) by himself. He also had to write software (Mobile Cardio OCG) which aims at acquiring, amplifying and filtering patients' heart rate. With no advanced training in electronics, Arthur Zang had enrolled in distance learning with an Indian University in digital electronics and embedded systems courses. At the end of the course he was able to design his own Cardiopad touchpad.
The inventor also recognised the challenge of electricity shortages in various areas of Cameroon. His device is equipped with a chargeable battery that can run the machine for around seven hours, in turn, making the device more adaptive to remote regions.
He also hopes to make the device accessible to many Cameroonians by selling it for 1,500 Euros as compared to other electrocardiographs that cost 3,800 Euros on average. "If hospitals purchase the device at a low price, they will be able to lower the prices of medical examinations".
Arthur Zang explains that the Cardiopad is mainly a scientific experiment. He has worked on developing Cardiopad for over three years and had it tested and approved by the Cameroonian medical community with an astonishing reliability of 97.5 per cent.
Making his first personal investment to order components from China at a cost estimated at about 600,000 CFA francs (about 1,000 Euros), Zang was soon recognised by the support from the Cameroonian State with 20 million CFA francs (approximately 305,000 Euros), which helped to materialise part of his project.
While Zang has undoubtedly made some important steps to prove that Africa can develop real African solutions to African problems, the biggest challenge remains. He still needs to secure the necessary funding to mass-produce his innovation. Nevertheless, Arthur Zang remains positive as an investor, entrepreneur and a visionary in his own right that his project will receive necessary funding in the near future. He is positive that the invention could save numerous human lives in areas where cardiac specialists are not readily available.
The quality, local adaptability and design of the Cardiopad device readily testifies the success of young Africans to combine performance, ergonomics and aesthetics in their work. It is also a sound example of African innovation bringing a visible and positive effect to African lives.