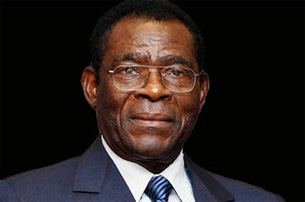 China to help finance power production and industrial development as part of overall strengthening of ties.
Equatorial Guinea's president, Obiang Nguema Mbasoso, returned to his west African country after a five-day state visit to China with financing for his ambitious development program, the promise of closer cooperation with China, and a boost to his position as an emerging leader in Africa.
China rolled out the red carpet for Obiang during five days of meetings and ceremonies with the country's top leaders, and Equatorial Guinea showcased investment opportunities to a conference of business executives from throughout Asia.
The visit was a highlight of Equatorial Guinea's diplomacy, which over the last few years has been characterized by greater leadership in Africa, targeted engagement outside the region, and success in attracting foreign investment.
Equatorial Guinea signed several agreements with Chinese companies to increase generation of electrical power and develop its industrial sector, a key goal of the government's plan to diversify its economy and reduce dependence on oil production. The largest was a $2 billion agreement with Industrial and Commercial Bank of China (ICBC), China's biggest lender by assets, to providing financial support to Equatorial Guinea's government and Chinese businesses operating in the country.
That agreement was signed on April 30 following a meeting in Beijing between Obiang and his Chinese counterpart, President Xi Jinping.
45 Years of Diplomatic Relations
The two nations also commemorated the 45th anniversary of diplomatic relations attended by China's top political advisor, Yu Zhengsheng, and President Obiang at which Yu praised the "strong friendship" the two nations have developed in the past 45 years. Equatorial Guinea became an independent nation in 1968.
China has sent about 500 medical workers to Equatorial Guinea over the past four decades. Equatorial Guinea donated one million euros to Sichuan Province following the Wenchuan earthquake in 2008. Equatorial Guinea has also contributed cash to relief efforts after disasters and humanitarian emergencies in Ethiopia, Japan, Haiti and the Congo Republic.
During the reception, Yu and Obiang jointly inaugurated the China-Equatorial Guinea Friendship Primary School, which will be built in Yunnan's Jinping County with funding from Equatorial Guinea. The nations also signed an agreement to jointly build schools in China and Equatorial Guinea.
Obiang thanked China for its assistance to Equatorial Guinea, saying his country is willing to beef up cooperation with China in areas including the economy and trade, finance and personnel training. Equatorial Guinea hopes for support from China in its industrialization process and welcomes investment from Chinese companies, said the president.
"The establishment of various cooperation agreements and continuous partnership between Equatorial Guinea and China marks a transcendental point for our bilateral relations and our commitment to promoting and extending the cooperation for the mutual benefit of our nations," Obiang said.
China Sees "Bright" Prospects for Development
Several Chinese firms are among the many foreign companies working on the various infrastructure-development projects in Equatorial Guinea, and the agreements were a clear signal by the Chinese government that it sees strong potential in the way the central African country is managing its development.
"Equatorial Guinea is a central African country that has developed relatively well," said Chinese Premier Li Keqiang, who held separate talks with President Obiang on April 29. "The government in recent years has supported expanded investment into infrastructure development, and the need for infrastructure projects is enormous. There are growing numbers of cooperation areas between our two countries, and the prospects are very bright."
In addition, Equatorial Guinea's Ministry of Mines, Industry and Energy signed three memoranda of understanding (MOU) to develop projects in the country, including one with the China Dalian International Cooperation Group (CDIG) to start preliminary technical studies for developing the western industrial city of Mbini.
Mbini, which lies on the mouth of the Benito River close to the country's coast, is "planned to be a key reference point for investment in West Africa and an important component in Equatorial Guinea's plans to diversify its economy," the ministry said in a statement.
In other agreements, the China State Construction Engineering Corporation will support the development of a planned petroleum industrial facility in the city of Luba, which, like the capital, is located on Bioko Island. Already an important oil port, the expanded and redesigned port in Luba will be the logistics hub for the oil and gas industry and other industrial activities.
The ministry said that it will work with China's Sinohydro Corporation on a feasibility study for a new hydroelectric plant on Equatorial Guinea's Wele River. Equatorial Guinea's investment in power generation has paid off, and electricity is now available throughout the national territory. The new plant will allow for growth and increased industrial production.
Importantly, Chinese leaders also pledged to support training programs that Equatorial Guinea hopes will develop industrial skills and improve local capacity to manage and develop home-grown industries.
Investment Forum
During the visit, the Government of Equatorial Guinea also hosted the Equatorial Guinea-Asia Economic Forum jointly with the government of Dalian, an opportunity for investors in Asia to meet the country's leadership and learn about the top investment opportunities. President Obiang delivered the forum's keynote address, and the economic ministers gave briefings on their sectors.
The government emphasized key investment opportunities available in Horizon 2020, the development plan to diversify the economy and promote industrialization.