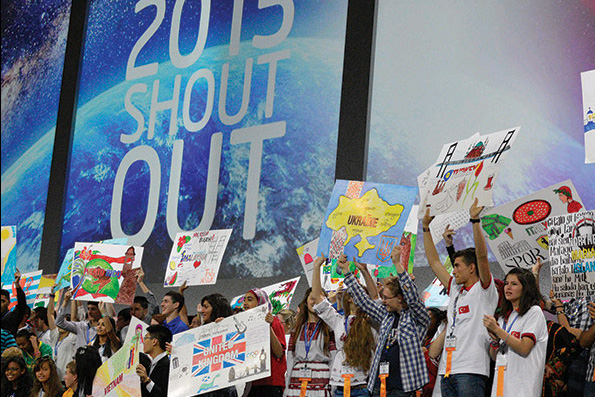 Representing the continent are 11 students from South Africa, with the remainder from Kenya, Nigeria and Egypt.
"In what can only be described as a David vs. Goliath contest, the developing countries represented in this year's ISEF are taking centre stage due to their innovative entries," Intel said.
"Time will tell if one of the African countries will nab the prize, and the glory."
Focusing on the ladies
11 of the African students are young ladies, and Intel encourages the support of young women on the continent in the fields of science and engineering.
Out of the 78 countries participating, 19 countries have a higher representation of women vs. men with 6 countries entering the same number of male and female students.
"Although the shift is positive, 17 countries still do not have female representation indicating that the fields of science and engineering need to do more to attract the interest of female students," Intel notes.
"Coupled with this, more must be done to groom the abundant raw talent available."
The African finalists
ISEF runs from 10 to 15 May and will see 1,700 students from around the world showcasing the best innovations in science and engineering across 20 categories.
On Friday 15th May between 09h00 and 11h30 (USA time) the Intel ISEF Grand Awards Ceremony will be held.
The African finalists include:
| | | | |
| --- | --- | --- | --- |
| Country | City | First Name | Surname |
| Kenya | Nairobi | Dulari | Varsani |
| Kenya | Nairobi | Jaspreet | Matharu |
| Kenya | Nairobi | Siddeeq | Parpia |
| Kenya | Nairobi | Jamaldin | Mohammed |
| Nigeria | Lagos | Oluwanifemi | Bolawole |
| Nigeria | Lagos | Oluwafisayomi | Fatoye |
| Nigeria | Lagos | Emmanuel | Adegbile |
| Nigeria | Ogun State | Abiola | Omosowon |
| Nigeria | Funtua | Umar | Bala |
| Nigeria | Funtua | Ahmad | Auwal |
| Nigeria | Ipaja, Lagos | Omogbolahan | Bruce |
| Nigeria | Lagos | Desola | Damola Okesiji |
| Nigeria | Lagos | Omotayo | Akinola |
| South Africa | Cape Town | Roland | Dubb |
| South Africa | Pretoria | Armand | Duvenage |
| South Africa | Ladysmith | Nishka | Ramkhelawan |
| South Africa | Secunda | Siyabonga | Nkosi |
| South Africa | Durban | Tyrique | Byroo |
| South Africa | Cape Town | Fritz | Keyzer |
| South Africa | Cape Town | Josiah | Senior |
| South Africa | Pretoria | Bernard | Smit |
| South Africa | Bloemfontein | Iselle | Van Den Heever |
| South Africa | Cape Town | Anna | Midgley |
| South Africa | Kokstad | Avuyile | Mbangatha |