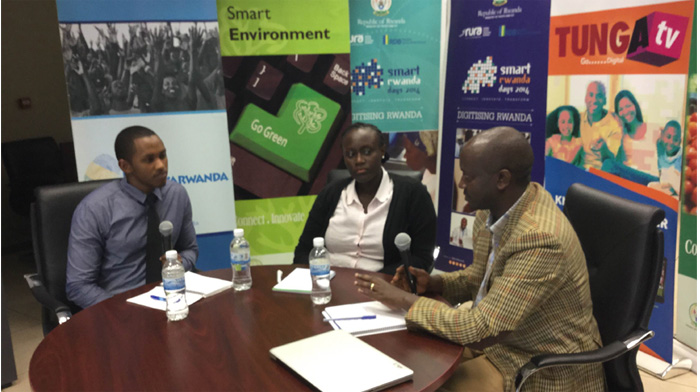 Maria Kamikazi, a young entrepreneur urges her fellows to do research about what others are doing and innovate to boost their own businesses and create more jobs to keep contributing to the country's development.
Attending the bi-monthly YouthConnekt Hangout took place in the evening of June 23rd, 2015, Kamikazi told the youth that: "Research is important to know what others are doing to be able to create your own market. Start with what you know and put it in practice in order to create job".
Rwanda's Ministry of Youth and ICT (MYICT) in partnership with UNDP, ADMA, Tigo, and HeHe Labs run YouthConnekt as a platform to connect innovative young Rwandans to help with the country's inclusive economic transformation. This platform serves as a channel for youth, private sector, and government to address the challenges youth are facing in terms of employment and entrepreneurship.
Kamikazi is founder and CEO of Angaza Ltd, a company that turns waste into valuable products. She started a company that collects wastes around Kigali, Rwanda and turns them into various fashion wear and other products.
She advised youth to embrace entrepreneurship without fearing the failure and try to look always for solutions.
Kamikazi shares the same views with Robert Mwesigwa, Executive Secretary of National Youth Council, who calls the youth to "Never fail to try as young entrepreneurs." He added that youth should not fear to start business on a shoe-string budget saying that "even big companies started small".
Mwesigwa advises youth to adopt the saving culture and join their efforts to be able to create jobs, and strive for development.
YouthConnekt has a practical, results-oriented format, including interactive, multi-stakeholder panel discussions, partnership announcements, as well as opportunities for participants to showcase their ICT development projects to potential partners and donors.
The YouthConnekt Hangouts provide an excellent networking platform for leaders from the public, private and financial sectors to meet and forge new partnerships for the future.
The hangouts focus on different themes such as Youth Employment, Entrepreneurship, and Youth Access to Finance; ICT4D, Environment; Investment Promotion.  The hangouts are supported by an active website and social media.
YouthConnekt connects youth to opportunities such as skill development, jobs, access to finance, business incubators, mentorships, and internships.
Also see:- Young innovators to be driven by passion