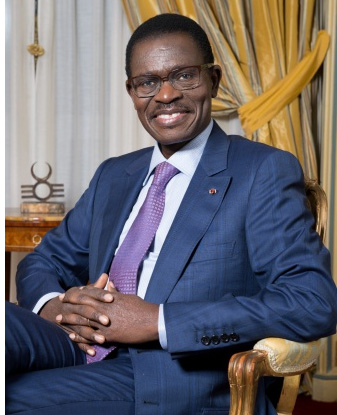 Mr Christian Adovelande, President of the West African Development Bank (Banque Ouest Africaine de Developpement, BOAD) (http://www.boad.org), held a press conference at the BOAD headquarters in Lomé, which was attended by approximately thirty journalists representing both public and private media of WAEMU states (West African Economic and Monetary Union) as well as the international media.
Discussions focused on BOAD ambitions for the coming years, as expressed in its Strategic Plan for 2015–2019. These were addressed in relation to two recent events: obtaining an international quality rating and BOAD accreditation as a regional implementation agent of the Global Environment Facility (GEF).
In regards to their ratings, on 15 May and 11 June respectively, the international agencies Moody's and Fitch had each classified BOAD within the rating category called 'investment'. In particular, the positive assessment given by both agencies was due to BOAD's financial performance, with the support which the institution enjoys from all its shareholders, as well as to the quality and stability of its governance.
As for their accreditation with GEF, it stepped in at the 48th session of the Global Environment Facility board of directors, held from 2 to 4 June 2015 in Washington. This reinforced the fact that that BOAD is willing to assist its member states in their efforts to promote environmental projects and programmes. GEF grants financial help to developing countries and countries in transition to realise projects in the areas of biodiversity, climate change, international waters, land degradation, the ozone layer, and persistent organic pollutants.
Change in scale
"With increased international credibility, there is the possibility of a change in scale which confronts BOAD today," declared President Christian Adovelande, before pointing out that "the international rating and accreditation with GEF should be placed within the context of implementing BOAD's Strategic Plan for 2015–2019." Based largely on the willingness of the Member States' economic development, this Plan identifies four main areas:
– Acceleration of regional integration through sustained funding of infrastructure, including the allocating of 50% of BOAD funding for regional projects;
– Support for inclusive growth, food security, and sustainable development;
– Support of companies and States, developing the infrastructure of financing and services, with a particular emphasis on promoting projects of public-private partnerships;
– Delving deeper into the process of resource mobilisation.
Priority for resource mobilisation
On this last point, the Regional Financial Market will remain a refinancing base for BOAD. The institution has played a pioneering role by launching the first issuance of bond loans in this market in 1993. With 913 billion worth of CFA funds raised to date, BOAD is positioned as the first non-sovereign issuer in the WAEMU zone. However, the international financial markets will become, by volume, the main borrowing source for BOAD. President Christian Adovelande has therefore announced that BOAD plans to raise 500 million USD in these markets over the final quarter of 2015.
Furthermore, BOAD has initiated steps with the WAEMU authorities for the establishment of innovative mechanisms that may allow the exercise of internal concessional resources. This should enable it to support the development projects of its Member States better, particularly in the sectors of infrastructure and food security.
In summary, resource mobilisation, in sufficient quality and quantity will be a top priority for BOAD if it wants to turn the vision behind its Strategic Plan into reality for 2015-2019 – that is, to eventually become 'a strong development bank for economic integration and transformation in West Africa.' Access to international ratings of quality and accreditation such as a GEF regional implementation agent will contribute to that greatly.