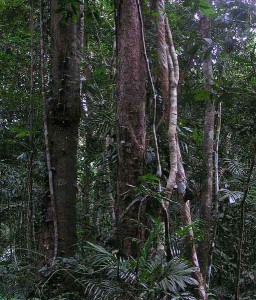 Scientific indicators show that environmental change caused by human activities continues to rise — in some cases heading towards the 'tipping point' beyond which there may be no recovery — but social indicators offer hope that the battle to save the environment is not lost yet, an international conference heard today.
Speakers at the Planet Under Pressure conference (26–29 March) presented two sets of indicators of environmental change — scientific and social — and how they fared over two time periods: between 1950 and 2000, and since 2000.
William Steffen, executive director of the Australian National University's Climate Change Institute, reported that the key global physical, geological and biological indicators of climate change, such as carbon dioxide levels, loss of polar ice or tropical forests, continued to rise in each decade since the 1950s.
"These [rising] trends in the 20th century by and large continue unabated in the 21th century," he said.
According to Steffen, loss of Arctic ice may have already reached the tipping point — a point of no return.
Sandra Diaz, professor at Córdoba National University, in Argentina, cautioned that unsustainable growth is taking a toll on the natural ecosystems that are losing their diversity.
Severe biodiversity losses include many of the species that are crucial for the food web, but do not have the capacity to quickly adapt to changes, such as large animals and fish that grow and reproduce slowly.
"It is a very good recipe for reaching some point of abrupt change that may be irreversible," Diaz warned.
Similar trends were seen in social indicators used to measure changes that affect development, environment degradation and climate change, such as population growth, land use, and energy consumption.
But the rate at which the social indicators are worsening has slowed down, said Diana Liverman, professor of geography and development at the University of Arizona, United States, whose work assesses the social trends that demonstrate whether our trajectory is towards further damage or away from it.
"These are positive signs," she said.
Liverman added there has been a "dramatic drop" in human fertility rates which have halved in the last few decades and the UN now estimates that the population could level off at nine billion people. She attributed the drop to improvement in women's status and education, as well as access to contraceptives.
Other encouraging signs included the decline in energy use per unit of economic growth and slowing down of loss of tropical forests to cultivation in some countries, such as Vietnam where forests are "starting to return".
"There are incredible signs of pressure on the human planet, but there are [also] signs of [things] turning around," she said.
Link to live web streaming of the conference
For more news and analysis of the Planet Under Pressure 2012 conferenceclick here, and also see our live blog.
Source: SciDev.Net – 26 March 2012