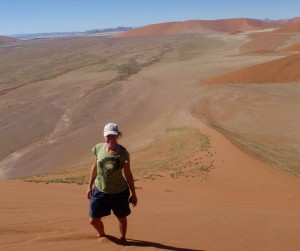 For the second time in three years, a student from Stellenbosch University has come up tops as the best honours student in geology in South Africa. Tarryn-Kim Rudnick, who says geological research is very much like a "detective story", has received the annual Haughton Award from the Geological Society of South Africa (GSSA) for the best honours thesis by a student in earth sciences at a South African university.
Ms Rudnick, who hails from Hermanus, received her BSc Hons degree in earth sciences at the end of 2011. She says her childhood interest in dinosaurs and prehistoric mysteries sparked her interest in studying geology.
For her honours thesis, Ms Rudnick focused on the mineralogy, stratigraphy and depositional history of the Swartberg deposit near Aggeneys and Gamsberg in Namaqualand. She documented the mineralogy and stratigraphy of the Swartberg deposit, and expanded on existing theories on how the original depositional basin was formed.
"This information can help mine management to make deductions about the current distribution of ore minerals within the deposit," she explains. "This of course has possible implications for future mining and exploration."
Her study leader, Prof Abraham Rozendaal of the SU Department of Earth Sciences, has been doing related research in economic geology in the Namaqualand area since the 1970s. He says that Ms Rudnick's study was conducted in association with the mining staff of the Black Mountain mine.
"In the past, zinc, copper and lead have been mined from the Swartberg ore body, and this might again be done in the future because the life of the nearby Broken Hill-Deeps mine comes to an end in 2018," he explained the rationale behind Ms Rudnick's industry specific study.
Since completing her studies, Ms Rudnick has taken up a position as graduate geologist with the Indian-owned company Vedanta's Black Mountain Mining. She works in particular on the Broken Hill Deeps ore body near Aggeneys, a site which is very close to the area on which she did her honours degree research.
Ms Rudnick, who is an outdoor sports enthusiast with a passion for trail running and hiking, describes the daily 45 minute 4×4 drive down the 1,6km deep mine for inspections as "great fun".
 "My day-to-day job includes underground mapping and grade control, as well as core logging and other administrative tasks," she says.
She was attracted to geology by way of her interest in palaeontology. "At some point, every little kid wants to study dinosaurs, and I simply never grew out of that phase!"
At the age of four years she caught her first glimpse of a slim children's magazine about dinosaurs. "At that moment I decided that I would become a palaeontologist," she remembers.
"My childhood interest in dinosaurs expanded to include anything that could shed light on the ancient world, and rocks are one of the best clues for unravelling prehistoric mysteries," she adds. "Like palaeontology, geology is a combination of puzzle-solving and playing detective."
She says that some aspects of geology are like a detective story. "For example, when you look at an intensely deformed and metamorphosed ore body, you have to try to put together the story of how it was formed," she explains.
 "You get to scramble around in the field to collect all the evidence you can," she explains why she likes fieldwork in particular. "Then you use a mix of several sciences, such as chemistry, physics, maths and biology to put the pieces together and to decipher what they mean."
Source: Stellenbosch University – Press Release – 7 August 2012