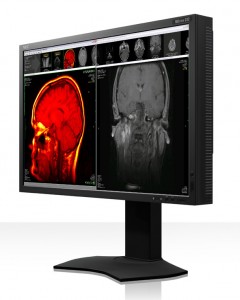 NEC Display Solutions Europe has announced the addition of a DICOM calibratable wide-format LCD display to its MDview Series, ideal for image review by trained physicians and referral in a hospital picture archiving and communication system (PACS).
The NEC MDview232 display is perfectly suited for use as Radiology Information System (RIS) or Hospital Information System (HIS). It is designed to help doctors and other healthcare professionals by fulfilling dedicated quality requirements for reproduction of images from Computed Tomography, Magnetic Resonance Imaging, Nuclear Medicine/PET and Cardiology as well as PACS referral.
Crucially for clinical review displays, the MDview232 ships with factory-settings that meet the DICOM standard, ensuring it is ready for immediate use. Digital Uniformity Control, combined with the latest LED backlighting and ageing correction, ensures white point control with consistent image quality.
With IPS TFT panel technology offering a viewing angle of 178 degrees horizontally and vertically, and a resolution of 1920 x 1080 with a contrast ratio of 1000:1, it also provides an excellent image. The 14-bit Lookup Table (LUT) with 16-bit processing ensures perfect image control, while the GammaCompMD QA client software supplied with the display makes for easy calibration and constancy tests.
Furthermore, its picture-by-picture function means users can view two images from different data sources simultaneously, giving them a space-saving alternative to dual-screen solutions. This, combined with the connection possibilities delivered by the DisplayPort connector, HDMI, DVI-D and VGA connectors and programmable USB hub (3 down/2 up), give advanced users all the flexibility and image quality needed to ensure the highest personal productivity.
"The MDview232 is a perfect out-of-the-box medical review monitor with DICOM preset, making it a seamless extension to any NEC hospital-wide solution portfolio," said Christopher Parker, Product Line Manager Professional Displays at NEC Display Solutions Europe.
"Designed with reliable quality, flexibility and affordability in mind, these displays contain unique built-in firmware features. Furthermore, features such as the dual-input and excellent ergonomic characteristics ensure the display can be matched to each user's individual requirements."
Availability and warranty
The NEC MDview232 is now available through NEC Display Solutions certified medical trade resellers. Each unit includes the display, power cord, quick reference guide, GammaCompMD QA software on DVD, DVI-D-DVI-D cable, VGA-VGA cable and DisplayPort cable. NEC Display Solutions Europe offers a three-year warranty, which also covers the backlight.
Source: NEC Display Solutions – 9 November 2012