A presentation of digital creative media (DCM) work by 15 talented young Kenyans was recently show-cased at Nairobi's Alliance Francaise. It didn't follow the usual graduation ceremony format. There were no esteemed academics present, robes, parchment, wall hangings of student final projects or long formal speeches. What was presented was an enthralling series of show reels of new digitally produced music, a mobile device puzzle game with touch screen controls, an Afro-contemporary fusion animation feature, and Afro-futuristic graphics and new imagery.
The students produced this work after just 12 weeks of digital creative media skills development in an informal collaborative learning environment led by four young industry savvy DCM free-lancers from Kenya.
Jerome Morrissey, GESCI CEO and advocate for the mobilization of Kenya's digital cultural industry, opened the graduation event by stressing the pivotal role the arts can play in job creation and revenue generation. Citing Ireland as an example of a country that went from digital cultural obscurity in the early 90s to being the second biggest animation producer in the world today, Mr. Morrissey encouraged the development of digital creative media skills in Kenya so that the cultural industries have the human resources required to develop. Mr. Morrissey congratulated the students and Kenyan tutors for their hard work, and commitment to what was a pioneering and ambitious skills development initiative. He talked about how impressed he was by the talent and ingenuity exercised by the students, and that he was confident they would go on to have successful DCM careers in Kenya and across the region. He thanked the Irish tutors from the Ballyfermot College of Further and Higher Education who developed the curriculum for the course and lent their support to the Kenyan tutors throughout.
A curriculum that is normally delivered in formal learning institutions over the course of at least a year was condensed into a practical 12 week training programme designed to develop latent talent in students with varying degrees of competency in DCM. Another major objective of the course was to guide students through the end-to-end process of producing a finished DCM piece of work. Too often DCM artists struggle to get from initial ideation and experimentation to a client-ready finished product. Through a process of cross-collaboration of DCM skills, each of the four groups (animation, gaming, digital music, and graphics/new imagery) lent their skills to the other groups to complete the final projects, thus simulating real-life end-to-end DCM work.
Graphic Design/New Imagery
The first to present the student work was Kelvin Kim, graphics and new imagery tutor. Kelvin is a graphic designer and photographer who has worked on several projects in various capacities including Tiger Aspect's 'Tinga Tinga Tales' as an animator, Homeboyz animation School as a design trainer and has led branding projects for Design Graphics International as a web designer and graphic designer. Kelvin described how the students covered everything from design theory, to concept development, and advanced software techniques. Moving from design theory and idea generation, the students learned how to plan and implement the entire creative process from sketch work and research, to mood boards and developing design briefs for clients. Illustrating their learning journey with pictures of before-and-after image restoration, the audience was then treated to shots of album artwork that would meet the design standards of any A-list rap artist. Some time, Kelvin explained, was also devoted to coaching students on the professionalism required to work with private and public sector clients. The graphics students contributed to the animation project by assisting with post-production, as well as lighting and textures for the 3D work. They also created the branding and the interface for the gaming final project with logos, buttons and splash screens.
Digital Music ProductionNext up was Freddie Wanjira/Dilie, Digital Music Production Tutor. Freddie has worked on numerous hit songs with different artists in Kenya since starting his career at Homeboyz Entertainment in August 2006. Some of the songs include: Redsan's Leo ni Leo, Yule Pale, Unbreakable, and Ila wewe. Currently, Freddie is running his own independent media production company, Grand Empire Media, which handles the production of radio adverts, TVC music, sound for animation and films in general, as well as producing new artists. Freddie explained that the music production students created the soundtrack for the animation feature Children of War, which was written and performed by one of the students. Freddie played a selection of songs that the students had produced in English and Swahili, and many of these demonstrated idiomatic African musical concepts and a breadth of contemporary musical styles.
Samples from all of the songs can be found here: http://www.gesci.org/final-project-work-ake-digital-creative-media-course.html
Gaming Design
The third to present was gaming design tutor Brian Waigwa. Brian, an avid games enthusiast, is also co-founder and Lead Programmer of University of Games Ltd., and has a number of games published in the Nokia Store. Brian is also the winner of the Kenya ICT Board's Tandaa business grant competition. Brian's show reel of student work took the audience through basic gaming competencies as each gaming asset built contributed to a fully functioning game called Migingo Ni Yetu, a mobile device puzzle game with touch screen controls. Brian explained that the students collaborated with the digital music production, animation and graphic design students to complete their final project.
Animation Design
The final presenter of the day was animation tutor, and tutor coordinator Allan Mwaniki. Allan has worked as an animator, illustrator, storyboard artist, lead animator and animation director. He has worked on animated films and TV commercials including: Tinga Tinga Tales, The Legend of Ngong Hills, Owen and Mzee, Visual Matrix, Samak the fisherman, The adventures of El- moran and El-Toro, Tuberculosis animated educational videos and a number of Television commercials for both local and international companies. Allan presented some short animation features to illustrate the learning pathway of the students from basic sketch work to experimentation with different animation styles. Drawing on contemporary social and cultural issues, the learning process culminated in a production that fused African with contemporary styles of animation in a short feature called: Children of War.
Before students were awarded their certificates by Mr. Morrissey, student Joseph Mutua Mbithi shared a few words of appreciation on behalf of the students. Joseph expressed his gratitude to the tutors for their support and to GESCI for giving them the opportunity to learn invaluable DCM skills. Joseph talked about how his own expectations had risen sharply as he progressed through the course, to the point where he and some of his classmates are preparing to form their own DCM company. He also expressed his appreciation for the friends he had made on the course and felt certain that they would remain connected as they launched their respective DCM careers.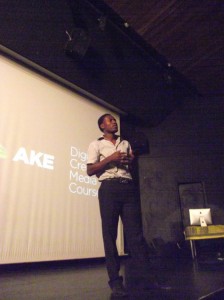 While students, tutors and guests enjoyed some refreshments following the presentations, students gathered around the computers to play the gaming students' Migingo puzzle game and to listen to the music students' tracks.
Student work will soon be available to view on the GESCI website.
Source: GESCI – 4 March 2013