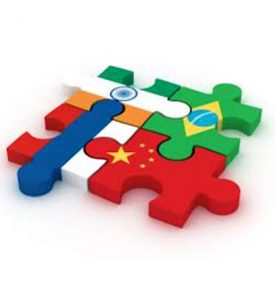 The Brics countries have pledged to support one another in their collective fight against global warming and climate change.
Delegates from Brazil, Russia, India, China and South Africa, who attended the group's fifth summit in Durban, on Wednesday signed a multilateral agreement on climate cooperation and the green economy, which will see the exchange of technical and financial support to address the dangers of climate change in developing nations.
A Brics Business Council, which was officially inaugurated at the summit, will also facilitate business and financial cooperation among Brics countries. The Council would be chaired by South Africa mining magnate, Patrice Motsepe.
Speaking at the conclusion of the two-day summit, Indian Prime Minister Manmohan Singh said Brics needed to respond to climate change by investing more on development that supports the green economy.
"We need to respond to all the persistent weaknesses that threaten the world economy… All of us need to work together to for the green economy and cooperation in energy, food security, health care and education," Singh said.
Earlier in the day, President Jacob Zuma also said South Africa would continue to work tirelessly to forge stronger ties with developing nations in promoting the green economy, mineral beneficiation and infrastructure finance.
The multilateral agreement on the green economy would not only benefit Brics member states but the entire African continent.
Brazilian President Dilma Vana Rousseff urged her fellow Brics colleagues to "reaffirm Brics as a fast growing global giant, committed to a clean development".
"We must uphold the optimism our people have on Brics, and Brazil will be playing its role in this regard," Rousseff said, adding that her country was committed to new non-fossil energy initiatives.
Source: SA News – 27 March 2013