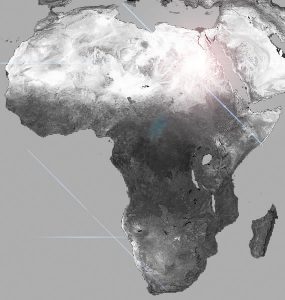 Twenty-eight years ago this month, dozens of popular musicians "checked their egos at the door" of a Los Angeles studio to record 'We Are the World' (WATW) – generating over $75 million for famine relief.
Now AllAfrica and USA for Africa invite you to join artists and entertainers in a two-year initiative in advance of the 30th anniversary of the iconic song, which played simultaneously on 8000 radio stations on 5 April, 1985 and was a number-one hit in both the United States and United Kingdom.
Websites have permission and rights to use the five-minute launch video and broadcasters may use it for radio and television. The video includes interviews with Yvonne Chaka Chaka, Harry Belafonte and Salim Amin, whose father's reporting from Ethiopia sparked WATW.
The video is available here. A larger HD broadcast version can be downloaded here.
If you notify us that you use it anytime this month, we will prominently credit you on allAfrica.com and through our worldwide distribution network.
We will work with you and your institution to facilitate discussions and events around the critical issues facing Africa over the next two years. African artists and thought leaders will spearhead a broad dialogue leading to engagement activities – both on mobile devices and in your communities.
Your participation can benefit your operations by
local and global publicity and greater audience engagement for your activities;
increased search visibility that builds your brand; and
association with public-service causes and the celebrities who promote them.
Over the next two years, you will be able to use this initiative as a platform for promoting your diverse programs and your activities. The uniting theme will be how all of us can make the 'We Are the World' spirit a reality – all around us – today.
AllAfrica's reporting for this initiative in 2013 will focus on four areas where enormous progress to save lives is within reach: reducing maternal mortality; promoting food security and child nutrition; fighting malaria, TB and HIV; and eliminating polio.
You can initiate a range of actions to spotlight your own goals through this effort. Among planned actions are choral submissions, celebrity-led community actions, museum-based activities and classroom competitions.
What you can do now:
Download 'We Are the World' from iTunes, which generates funds for USA for Africa's work. For more information, visit USA for Africa and its Facebook page.
Visit allAfrica.com to sign up for information about upcoming projects and ways to promote your cause.
Source: Digital Journal – Press Release – 5 April 2013