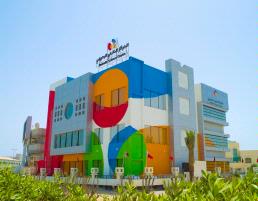 Eman Buhijji from the Bahrain Science Centre conducting the storytelling workshop
The Bahrain Science Centre, part of the Ministry of Social Development in Bahrain represented Bahrain and the GCC in Scifest Africa 2013 in South Africa.
The workshop by Bahrain Science Centre facilitator Eman Buhijii was greatly received by the visitors of the National Science Festival. Eman did a storytelling session on 'Islamic contributions to Science and Technology' which kept the audience engaged at the science festival.
About Bahrain Science Centre (BSC):
The Bahrain Science Centre (BSC) is an interactive educational facility that targets children, youth and families of Bahrain. It is located in building 334, Road 109, Block 801, Riyadh Avenue, Isa Town, Kingdom of Bahrain. The science centre has six interactive exhibition galleries, an auditorium, four laboratories and a café/shop.
The role of the BSC is to promote awareness of the importance of science and technology, complement the school curriculum, stimulate curiosity and innovation, and create a forum for public debate on science and technology issues. The topics covered by current exhibitions include junior engineering, human health, the five senses, earth sciences and biodiversity.Focusing on hands-on learning using interactive displays and people-centred programmes, such as science shows, Bahrain Science Centre also strongly promotes creativity and innovation as well as cross-generational learning. The science centre will also endeavour to promote an awareness of Bahrain's contributions to science and technology and a strong Bahraini identity. It is an ideal family edutainment destination.The Bahrain Science Centre is located in Building 334, Road 109, Block 801, Riyadh Avenue, Isa Town, Kingdom of Bahrain and can be contacted on 17686466.
Source: Zawya.Com – Press Release – 9 April 2013