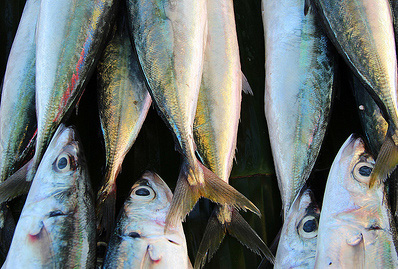 Iranian scientists have coated a water filter with silver nanoparticles to prevent fungal infections in fish farmed indoors, in a step that they say could replace the direct release of nanoparticles into tanks — a process they have found is toxic to young rainbow trout.
The filter was developed following a study published in the Iranian Journal of Fisheries Sciences, which concluded that the direct application of 'colloidal silver' nanoparticles should no longer be allowed for fish, not least for rainbow trout, for which Iran is the world's largest producer.
"We believe that the direct release of colloidal nanoparticles into the environment, especially in the aquaculture industry, must be prohibited," Mohammad Reza Kalbassi, associate professor of aquaculture biotechnology at Tarbiat Modares University, Iran, and co-author of the study, tells SciDev.Net. "However, indirect use in a filter or via other instruments after scientific consideration may improve [the aquaculture] industry in future".
The use of the new filter, made from nanosilver-coated minerals commonly used as commercial adsorbents, increased the survival rate of rainbow trout when compared with the control, Kalbassi says.
"In contrast to the control group, where around six per cent of fish had an infection caused by the fungus Saprolegnia, no infections were observed during the incubation period in the incubators containing nanosilver-coated filters," he adds.
According to Kalbassi, the filter has been patented in Iran and details of its development will be published soon.
"I think that the silver nanoparticle filter has great potential for aquaculture," says Irina Blinova, senior scientist at the laboratory of environmental toxicology, National Institute of Chemical Physics and Biophysics, Estonia.
But she points out that silver nanoparticles are toxic and their adsorption depends on factors such as time and the chemical composition of water. She recommends more research on the long-term effects of treated water on both the target fungi and aquatic species such as fish before the filter is used commercially.
Graeme Batley, chief research scientist at the catchment chemistry and ecotoxicology programme at Australia's Commonwealth Scientific and Industrial Research Organisation, adds: "The first challenge to the filter system is to contain the nanoparticles without loss as the water is passed through."
Batley says the passage of water is likely to cause a continuing release of low concentrations of ionic silver, whichmay lead to a "build-up of ionic silver that could become toxic with time".
Link to full paper in the IranianJournalofFisheriesSciences