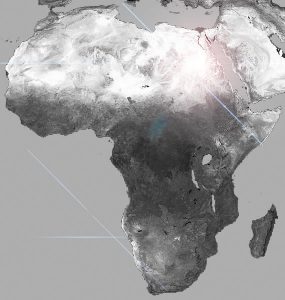 By Sanjeev Kumar
The purpose of "education for all" by 2015 may not be met if the current situation does not improve in Africa, millions of children have no access to school or drop out at an early age. Over the years, primary education has spread, but higher levels of education are still a goal to be achieved by many countries of the continent. In rural areas, many schools do not have the resources or materials needed to educate children and sometimes, to the teacher shortage.
Education should be one of the key points on the agenda of the governments of the continent, which should have unified curriculum. In some countries this idea already done but the theory is far from reality. One of the biggest problems in carrying out the initiative is the large number of existing languages ​​in the same country.
In Uganda, for example, the number of mother tongues may exceed thirty, so that education is bilingual: In schools taught in the native language and in English, the latter language takes more and more force, because of "the lack of resources, materials, books written in the mother tongue "and a shortage of teachers who can speak several of these native languages, explains Catherine Namuddu.
For the former representative of the Rockefeller Foundation, education reform should affect the quality of the content and, above all, "in learning attitudes" and motivation of students and parents. "The main challenge of the educational system in Africa is the initiative, education will not evolve if the majority of families prefer continent remains in its current state." In fact, today, many families "do not send their children to school, even if free", especially in rural areas, where education "is not considered a value as important as in the cities."
To convince these people of the benefits of training, Catherine Namuddu advocates a "political leadership" which comes to families and from "coalitions with children and parents." Once families convinced the purpose is "digitized literacy and children and adults, teaching them to read and write. How? Abandoning the traditional educational approach, training for teachers and school becoming a place where you learn not only skills but also attitudes".