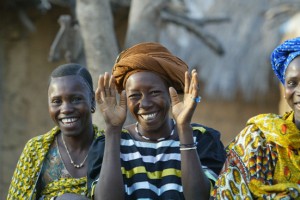 By Naomi Martin – SciDev.Net
The entrepreneurial and technological potential of African women remains largely unexploited, according to a leading space scientist.
Maggie Aderin-Pocock, a research fellow at University College London, was addressing delegates at Africa Gathering, a global platform that brings together leading African figures in business and innovation to share ideas for positive change on the continent. The platform celebrated its fifth anniversary with a conference held at the BBC last week (21-22 June) to showcase the rise of African women in the continent's technology sector.
Aderin-Pocock said that, while "we have come a long way", African women and girls continually need to be inspired to have dreams and aspirations. She added that the problem is not just one of gender, pointing out that most people don't think of Africa when they think of science.
When asked what can be done to encourage African women to follow a scientific career path, the scientist pointed to the "pale, male and stale" scientific figures currently lauded in schools and called for ordinary, everyday role models as an alternative for girls to aspire to.
Speaking on a panel with Aderin-Pocock entitled 'Meeting the Challenge: Women in Entrepreneurship and Technology — Reaching for the Stars', journalist and writer Hannah Pool said that many African women are "invisible" in business and technology.
There were, however, a couple of strong exceptions to this rule.