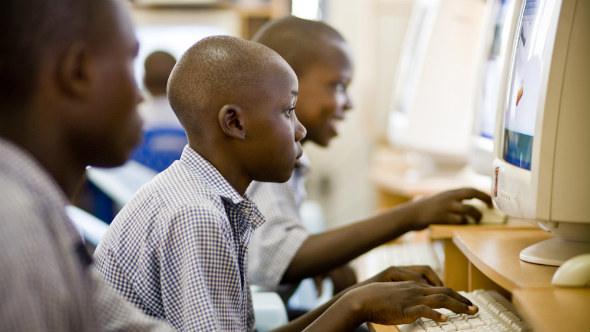 Badiliko is the first project in a strategic alliance between the British Council and Microsoft, which started in 2011, that builds on the organisations' complementary expertise in education, technology, and cultural relations. Microsoft brings its expertise in delivering cutting edge technology and digital training and the British Council builds on its deep experience working with government ministries, schools, teachers, and students in sub-Saharan Africa. Over the two years 2011-13, the British Council and Microsoft have each invested $1 million in the project, plus staff and in-kind resources.
Badiliko builds digital hubs at schools across Kenya, Tanzania, Uganda, Ethiopia, Ghana and Nigeria, and provides a cascade model of professional development for teachers and school leaders.
For each digital hub, teachers are trained in leadership and innovative teaching practices, to make the best use of the IT equipment for transforming student learning. Those teachers in turn train other teachers, who work together to disseminate their newfound skills through their own schools and communities. The digital hubs in schools are used for teaching and learning during the day, and by the wider community for skills training afterhours. Where schools are off the grid, the digital hubs are supported by solar power and long range Wi-Fi.
In addition to mainstreaming ICT in schools, Badiliko is delivering a series of policy workshops with host governments and stakeholders in each of the six countries. These workshops aim to contribute to the development of national ICT in Schools strategies, leveraging the Badiliko experience.
For more information please visit – www.badiliko.org