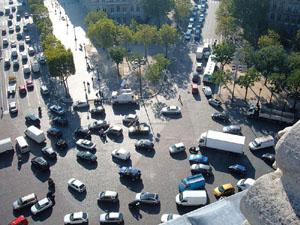 The Lagos Government opened a suspension bridge to the public, at Lekki-Ikoyi axis, a highbrow area of the state – in an amazing first in Nigeria. The bridge is useful to reduction of traffic, being an alternative route that links two areas – bypassing Victoria Island – another highbrow area, between them.
The project commenced in 2008 and concluded this year. The bridge was part of infrastructural development works ongoing in the state. A light rail project is underway, and cable car transport is planned to launch circa 2015. These, for parts of the state concerned would ease traffic, but to other parts, where road expansion is nearly impossible, and people are resigned to permanent portholes, traffic will remain an issue.
Traffic in Lagos is a result of old infrastructure, bad roads, skewed road use ethics, under-management and fewness of smart traffic technologies. People spend up to four hours in traffic – every day and puts many in tight spot, for appointments, events and emergencies.
There is a traffic management agency, whose officials are noticeable in cream and wine uniform across the state. They are useful to monitoring and controlling traffic and have been relevant to road users. Officials of the agency aren't enough to cover roads in the state; updated training, tools and welfare they should be given, aren't regular.
The government, a little over a year ago, launched a traffic radio, for traffic updates around the state. An expansive traffic law was enacted last year also; there are more traffic lights, more traffic management officials and multiple traffic report sources online, but these have not being enough for the traffic mitigation objective.
Traffic in Lagos is pain, and like a battlefront, drivers strive to save themselves. It is even likely to become worse over the next few weeks with rainfall and flash floods. Traffic adds to insecurity and contributes to global warming. But, what are solutions? There are several of them, some of the commonly mentioned ones are improbable – given the state of things. Expansion of roads, development of alternative routes, making more mass transit systems available and systematizing other forms of transportation, are examples but may not be coordinated fast enough, from a government that has so much to attend to.
This creates a vacuum for private traffic management firms – whose clients would include the state government, corporation via CSR, aid agencies and organizations during special events – to fill. Private traffic management is what is dearly needed to appropriately manage traffic in Lagos. The model can be extended to other Nigerian cities – Benin, Port Harcourt, Ota, Ibadan, Onitsha, Aba, Abuja and Akure – where traffic is growing.
Responsibilities of the firm would include handling human resource management for traffic management agencies, with services like training, welfare, update, reporting, communication, expansion and control. These would improve the quality of their delivery – on duty, working smarter and better.
Firms would also look at port holes that cause backlog of vehicles, and get construction companies to fix it. This may come from the state government, or from an appeal seeking organization, that'll reference their good – in billboards. There can also be deployment of smart traffic technologies, including speed cameras, synchronized traffic lights, LED traffic display boards, and an innovative first – traffic control robots.
The – elevated – robots would be at certain junctions, to monitor and control traffic, round the clock, alternative to officials – off duty during wee hours, when people often disregard red lights and over speed, for concerns including security.
With promise of action, traffic management firms can crowd source route-specific suggestions, asking road users to submit thoughts on how to reduce traffic on routes they know. This will generate new ideas for traffic reduction in the state.
A traffic management firm can be responsible for all of this, and in future expand within itself or externally, to handle deliverables. Lagos is in need of traffic control. Nigeria needs to be more productive, more innovative and more relevant; but not with growing traffic within cities. Mitigating traffic by a great percentage would take traffic management firms; supporting one – first, and others later, is beneficial.