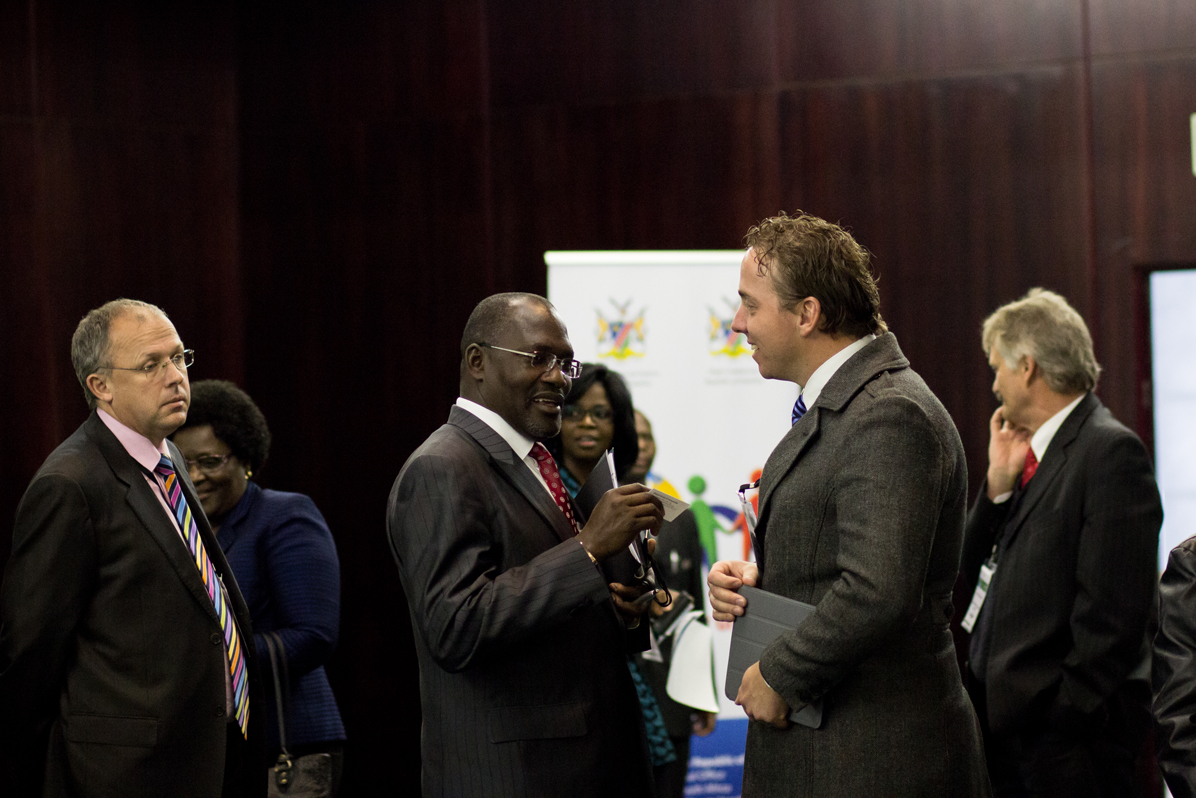 Namibian industry is set to boom on a number of fronts, particularly in light of its major port expansions, new mining potential and ambitious agro-processing goals. This emerged at the Namibian Investment Seminar staged for potential investors at Gallagher Estate in Johannesburg on the 2nd July 2013.
Namibia's Deputy Minister of Trade and Industry, Tweya Tjekero, and High Commissioner Marten N. Kapewesha headed a panel of sector authorities to outline the multiple investment opportunities available to South African and international investors.
The Deputy Minister noted that while Namibia's population is small, its mineral resources, stability and solid economic growth positioned the country as a significant investment destination. "Namibia is the gateway to the SADC region, through the Walvis Bay harbour and the Trans-Caprivi and Trans-Kalahari highways, running from Walvis Bay to the DRC and Johannesburg," he noted.  Namibia's policies are aimed at growing an industrial economy, he said, and in line with this, the country has attractive incentives to support partners aiming to invest in mining, infrastructure and manufacturing in particular.
In addition to its superior transport infrastructure and extensive communications coverage, Namibia is also taking concrete steps to address
energy supply challenges in the short and long term.  To bolster the energy supply until 2018, when the 800MW Kudu Gas to Power Project is expected to be functional, a number of Short Term Critical Solutions  (STCS) have been put in place, including a number of solar and wind plants. Another power project planned as a long term solution is the 600MW Baynes Project with Angola, expected to be completed by 2022. The Commercial Counsellor at the High Commissioner of Namibia's Commercial Office, Bonaventura Hinda, said Nampower was hard at work to put Namibia in a position to produce power in surplus, and export it.
Highlighting the country's rich mineral resources, Phillip Pendukeni, General Manager Mineral Resources Extraction at state-owned Epangelo Mining Company explained that while certain minerals are deemed strategic and only Epangelo may hold the Exclusive Prospecting Licenses (EPLs), the organisation welcomed joint venture partners who could earn in to EPLs. There are currently opportunities in numerous areas, for the prospecting, extraction and processing of uranium, copper, lead zinc, gold, diamonds and phosphate, he said.
Christian Faure, Executive – Marketing and Strategic Business Development at the Namibian Ports Authority noted that Walvis Bay harbour had seen significant growth in recent years, with Namibia now rated 78 of 148 countries in terms of liner connectivity on the Liner Shipping Connectivity Index. A tender to be awarded in August this year will signal the start of a new R3 billion reclaimed land container terminal project due for completion by early 2017. This will be followed by an ambitious SADC Gateway Terminal project to cost up to R20 billion, backed by new industrial areas at the town.
Education is another area enjoying a focus in the Namibian Government's development plan, and the education authorities urged investors to participate in planned developments. A key initiative will be the delivery of ICTs to rural schools not supported by the national power or
communications grid. Tuaundamuje Keeja, Deputy Director, Corporate Planning at the Ministry of Education, invited partners in pilot projects to deliver ICT access to unserved schools. It was also noted that teacher accommodation was lacking at isolated schools, and that partnerships were needed to develop this accommodation.
With much of Namibia's produce currently exported for processing, the country is actively seeking growth and investment in its agro-processing
sector. Alexandria Angala, Chief Agricultural Economist at the Directorate of Planning in the Ministry of Agriculture, Water and Forestry, said the country's Agro Marketing and Trade Agency was spearheading the development of two Fresh Produce Business Hubs, where produce and meat processing and packing could be supported. The Hubs, as well as associated logistical support, present numerous investment opportunities, she said.
The Commercial Counsellor noted that Namibia was actively promoting sustainable investment opportunities, with support available to potential investors through the Namibian High Commission's Commercial Office. Ms Hinda, who organised the seminar, said it had been staged in a spirit of cooperation with regional, continental and international role players to foster economic growth and development in Namibia.
High Commissioner Kapewesha told delegates: "At a time when the whole world is faced with economic challenges, Namibia remains optimistic, with the conviction that every slump is followed by a boom. Namibia wishes to extend a hand of friendship to partners and investors."