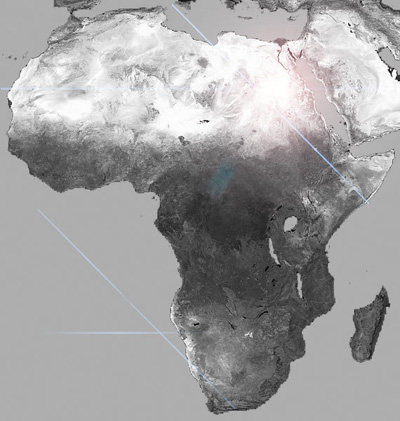 Public Enterprises Minister Malusi Gigaba says African countries must work towards cutting the regulatory red tape that makes it difficult for the continent's states to trade amongst each other.
Speaking at the opening of the Infrastructure Africa Conference in Sandton on Tuesday, Gigaba also said despite the global economic slowdown, Africa is projected to record a growth of 5% over the next five years, which was an indication that African states should work together to coordinate infrastructure projects that will help curb the continent's socio-economic challenges like under-development, poverty and unemployment.
The conference was attended by business leaders from several African countries.
Gigaba called on African businessmen to work together with African leaders to work towards devising a long term vision for the continent and sound economic planning.
"We need to pay attention to coordination to ensure that the implementation of infrastructure development is coordinated within countries, to ensure that we do away with all the unnecessary red tape and bureaucratic stumbling blocks that make the implementation of infrastructure difficult if not near impossible.
"..We need to address the challenges of funding and conferences such as these help us to address those issues to develop not only an immediate project-based funding formula but to focus on the funding formula for the entire infrastructure development.
"I believe that if we have a vision, the self-belief and the will to embark on this journey, as well as to stick to it, already we will be half way on the road to success," Gigaba said.
Gigaba said the South African Government, through state-owned companies would be exploring how to collaborate with other big customers for capital equipment – such as the mining industry – to create a large market as possible for South African manufacturers.
"We now need to explore how we can develop new models of partnership between Africa, China and other BRICS countries to ensure that our investment and trade relations have an optimal developmental impact," he said.
Infrastructure an obstacle to attracting investors to Africa
Gauteng Premier Nomvula Mokonyane, who also attended the event as a key-note speaker, said the lack of infrastructure was an obstacle that often prevented investors to come to Africa.
"If we have to emerge as the future global economic player, Africa needs to invest and channel her energies and resources to infrastructure development. This must be accompanied by a well-conceive program of knowledge and skills development of our human capital.
"The growth attained in other nations of the world was the result of a resolute drive to implement infrastructural revolution accompanied by focused education program. The ramifications of such a revolution certainly are felt in other realms of society," she said.
Mokonyane said good infrastructure would complement Africa's economic performance despite other traditional economic powerhouses – like the Eurozone – have in recent times recorded slow growth.
"Africa experienced growth of 4.6 percent in 2010. Although there was perceptible slowing down in 2011, the growth levels of 5.0 percent in 2012 were once again experienced, despite the global slowdown and uncertainty.
"According to the UN report the continent's economy will grow by 4.8% in 2013, and 5.1% in 2014.
"In order for us to address the deep rooted socio-economic challenges such as unemployment, inequality, poverty and under-development we must consolidate and harness this positive growth outlook."
Her statement comes at a time that the South African Government has shifted its focus to a massive Infrastructure Development Plan that aims at creating jobs while rehabilitating infrastructure to improve the quality of service delivery.
In particular, President Jacob Zuma chairs the Presidential Infrastructure Coordinating Committee – headed by ministers, premiers, MECs and municipal leaders – which cover more than 150 specific infrastructure interventions in rail, road and ports, dams, irrigation systems, sanitation and electricity.
The committee has since announced and commissioned 18 Strategic Integrated Projects (SIPs) which are divided in geographic, energy, spatial and social infrastructure development projects.
Some of these projects, like the roll-out of rail infrastructure, have been identified to integrate inter-African trade.
Gigaba, meanwhile, said it was projects like these that had been identified to anchor the inter-trade between African regions.
"Investment in infrastructure will be a key driver in ensuring inter-connectivity between the different regional economies.
"For instance, the North-South Corridor will provide a blueprint for regional integration and economic transformation, by creating links from the resource-rich hinterland to key ports, connecting markets with a combined population in excess of 200 million people, developing power capacity to establish manufacturing and agro-processing capabilities at key nodes of the network.
"The North-South Corridor Programme includes US$800m upgrading of 600km of rail and a US$20bn dig out port in Durban."