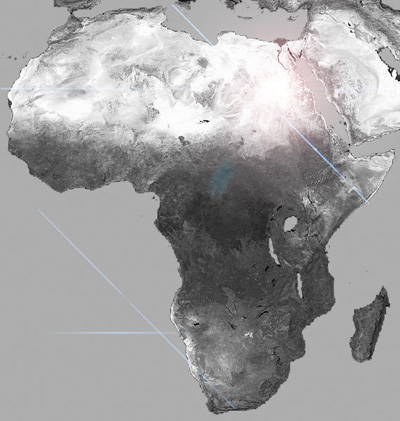 An African school classroom students often have different grades and ages. 
Since most of the countries in Africa are living this reality, a continental campaign is promoting the so-called multi-grade education to become national policy with a budget to match, special programs and teacher training.
"In Africa, multigrade education is not a new idea, but an economic choice based on social circumstances," said Virgilio Juvane, coordinator of a working group of the Association for the Development of Education in Africa (ADEA, for their acronym in English).
Juvane made these statements to more than 100 teachers and representatives of educational systems in the Conference of Southern African Multigrade Education held on 22 in Paarl, in the southern Western Cape Province of South Africa.
In South Africa, for example, 30 percent of children attend primary, or three million students attend rural schools where one teacher teaches more than one grade at the same time, according to researchers from the Centre for Multigrade Education .
"Without these schools, basic education would be virtually impossible in remote areas of Zambia, Uganda, Lesotho and Namibia," said Juvane, because a large percentage of children living in remote and populated areas should travel great distances to reach nearest traditional school.
"The remoteness and poverty are the main reasons for the high dropout rates in African countries," he added.
Juvane and his colleagues hope that multigrade education amounts to national politics in many nations of the continent.
"There is a policy gap because many governments are still unaware of the benefits of multi-grade education," said Juvane.
Since 2005, the ADEA organizes training workshops on multi-grade teaching in 18 African countries. To this was based on a model developed by the non-governmental Colombia's Escuela Nueva Foundation, which enhances the results of the rural schools of this type and include them in national education policies.
"As African countries, Colombia progressed more children access to education, but the quality was poor and high attrition," said the president of the Foundation, Vicky Colbert de Arboleda.
All this changed with the adoption of a national education system multi-grade that departed from the traditional model of the teacher leading the front of the class and introduced a participatory and student-centered, he said.
Properly implemented, this multi-grade teaching allows one or two teachers work with small groups of students and promote active learning, participatory and collaborative.
"The result is children happy, motivated and confident, with better academic and social skills," said Colbert de Arboleda.
The Colombian example shows that it is possible to improve the quality of education in impoverished contexts he added. "We have found multi-grade rural schools perform better than traditional urban schools," he said.
This could also be a way for African countries meet the second of the Millennium Development Goals: universal access to primary education by 2015.
In 2009 there were 32 million children of school age did not attend school in sub-Saharan Africa, according to the United Nations Educational, Scientific and Cultural Organization (Unesco). Most of them, poor urban or rural areas, were nomadic, disabled or endured the consequences of armed conflict.
To meet the goal of universal education, SSA countries must recruit 1.14 million new teachers.
Multi-grade education offers solutions Juvane says, it allows smaller schools operating in rural areas, with more children attending school and less need for recruiting teachers, as each teacher or teacher can teach school time of different ages .
In Namibia, for example, 40 percent of schools provide multi-grade education. But educational programs are only for traditional schools, said Gisela Siririka, an official of the National Institute for Educational Development.
"We have to change the school to fit the child and not expect it to adapt to school," he said.
Teachers in Botswana living a similar situation, although the National Education Commission recommended in 1993 adopt multi-grade education.
"The government does not allocate the necessary budget to transform the education system," complained Billie Morongwa, educational planning expert at the University of Exeter in Gaborone.
The government is committed to multi-grade teaching, although a quarter of the population of Botswana school age are not in school, he said.