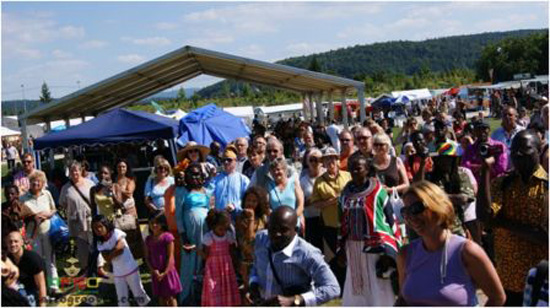 International African Festival Tübingen proudly announces its 2013 season today, bringing together world class African lifestyle, music, food, exciting newcomers to the international stage from  8- 11 august 2013.
African Village (Festplatz) Open-air –Down town Tübingen, Germany
It is the fastest and largest growing Diaspora cultural event transforming the city of Tübingen in south of Germany into a pilgrim city, bringing African Diaspora worldwide irrespective of country of origin, gender and religious background , friends and well wishers of Africa together.
More than 100.000 visitors are expected to attend International African Festival Tübingen 2013.
This event promises a multi-dimensional exploration of interplay of authentic African culture and lifestyle -150 artists –live- featuring fresh sounds and voices –Ngoma Africa Band, Soweto Entsha, Wamali percussions, street arts, workshops and culinary expression.
The Festival once again invites artist and audiences of all ages to experience African music, arts, culture and party, a mélange between traditional and modern Africa, bringing African hip-hop, Bongo Dansi,Kwaito,Afro-Pop,soukouss and African movies on the international stage.
Festival highlights will include- a grandiose opening ceremony lead by African children & youths, celebrities, African ambassadors rep. in Germany under the chairman ship of the Ghana Ambassador, program for families, panel discussion and late night events – the biggest African party in Germany, Stuttgart on Saturday night –form 22 o'clock featuring celebrities and Sunday will be special day for family.
Visual art is at the focus on our Festival and this year the African royal ballet is visiting all the way from Mali featuring Djiby & Basy Kouyate, dance styles and moves to support and build schools in Mali, Christoffel-Blindemission project helping the blind to see in Africa, bongob trust and many more.