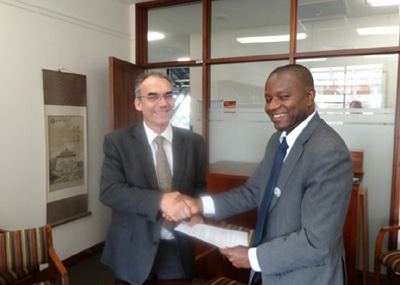 The African Technology Policy Studies (ATPS) and Murdoch University's Centre for Food and Biosecurity have signed a memorandum of understanding that will see the two institutions cooperate in the development and implementation of food and bio security programs. The collaboration is aimed at achieving the following objectives:
to jointly develop and implement applied policy research in areas vital to achieving long-term food security and biosecurity in Africa with a special focus on reducing post-harvest losses, improved nutrition and effective resource uses along the agricultural value chain;
to share knowledge, technologies and innovations that help farmers grow more food in a safe way;
to accelerate the delivery of research innovations for food security and bio-security in Africa;
to work with African governments to develop and upscale polices for biosecurity and food security;
The partnership will seek to achieve its goals by providing a bridge between agricultural research innovations (technologies, policies and practices) along the value chain (from farm to fork) and policy development and deployment for a food security and biosafety in Africa.
Murdoch University's Centre for Bio security and Food security is a public institution mandated with conducting food and biosecurity research through national and international collaboration and partnerships aimed at developing strategies, tools and technologies to address food and bio security along the entire agricultural value chains. The Centre takes a system wide approach to food and bio security by adopting a '3-P' approach – how to produce food in a sustainable manner, how to protect it from loss, and how to provide food for regions and communities in a bio-secure manner.