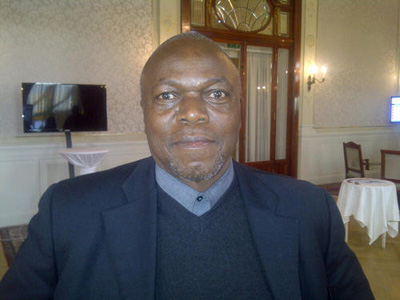 The United Nations World Food Programme (WFP), in conjunction with the Government of Kenya and Canada's Department of Foreign Affairs, Trade and Development (DFATD), today officially launched a cash transfer pilot for school meals in Kenya's arid regions – the first time this initiative has been taken in Kenya.
The Canadian government has provided CA$10 million (around US$9.6 million) to support feeding programmes in Kenyan schools. Part of this contribution will go towards cash transfers to enable schools to buy food from local traders or smallholder farmers, stimulating agricultural production in arid areas.
The Canadian contribution will also be used to fund the development of a sustainable model for school meals in Kenya's arid lands, as well as to support existing WFP school meals programmes, and water, sanitation and hygiene projects for schools in arid areas.
"Canada is proud to contribute to an innovative approach to school meals that also promotes community economic growth and local ownership," said Minister of International Development Christian Paradis. "Working with the World Food Programme, we will help children enroll and stay in school and build a brighter future."
WFP and the Government of Kenya have been supporting school meals in Kenya since 1980. Around 1.3 million children receive food in schools in arid and semi-arid areas. To ensure the sustainability of the school meals programme, WFP and the Government of Kenya have been implementing a gradual handover to the Government's Home-Grown School Meals Programme with an average of 50,000 children moving from WFP school meals to the national programme each year.
The government-funded programme, which began in 2009, supports more than 750,000 children in 1,700 schools in semi-arid areas while WFP supports a further 600,500 children in 1,500 schools in arid areas and in slums in Nairobi.
WFP has adopted a range of innovative programmes to deliver food assistance while strengthening communities' abilities to withstand cyclical shocks such as drought or inadequate rainfall.  Supporting smallholder farmers and improving their access to markets are key components of this strategy as WFP works with partners and governments to strengthen local economies and reinforce national self-reliance.
"WFP and the Government of Kenya are working to empower County Governments to take a holistic approach to food security and nutrition issues in their areas. School meals will play a critical role in this strategy," said WFP Kenya Country Director Ronald Sibanda during the launch.
Eighty percent of Kenya is arid and semi-arid land, subject to pervasive climate shocks, food insecurity and poverty. Around 4.3 million people live in arid areas, mainly in the north, and health indicators are significantly poorer here. Food prices are generally around 50 percent higher than in other more productive areas of the country.