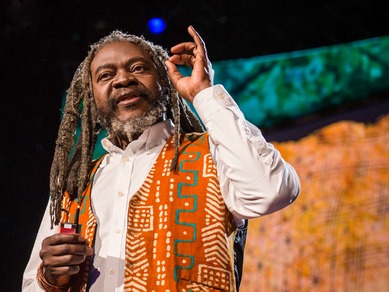 After 20 years in the United States, graphic designer Saki Mafundikwa dropped everything and boarded a plane back home to Zimbabwe. During his years working in the publishing industry in New York, he dreamed of one day returning to Harare to open an academy to train youths in graphic design. The result is the Zimbabwe Institute of Vigital Arts (ZIVA); "vigital" meaning an education in visual arts by way of digital tools. Not just a skill, graphic design has an immense role to play in Zimbabwe and Africa.
Ask anyone in New York City or London today what "graphic design" is and you'll probably hear "graphic novels," "logos," "manga" or "anime." But graphic design is so much more. In fact, it is so pervasive in the world that few recognize the art's numerous manifestations. That "Stop" sign at the corner of the road – graphic design; the U.S. government's latest campaign materials as part of its push for a more health-conscious America (www.choosemyplate.gov) – graphic design; and, nearly everything else from the label on Campbell's chicken noodle soup to Kentucky's "banjo" driver's plate emblem – exactly.
Graphic design is a vital component of each facet of life. While in marketing graphic designers provide a visual arrangement of an informational message that can either sink or float, graphic design is crucial to technological innovation through user interface engineering. It is also the key to localizing and honing international campaigns and goods for country-specific audiences. Turning back to Africa, this is where ZIVA and Mafundikwa will have an enormous impact. As international organizations and firms become increasingly interested in the continent's diverse markets, gifted local youths will the ones who help their products and campaigns acclimate by making their proverbial jingles ring well to African ears.
Mafundikwa is a staunch believer in finding design inspiration in Africa's roots, teaching his students to delve into the continent's rich symbolic history and ancient alphabets as they approach their projects. The results are indeed stunning (www.ziva.org/gallery.html), and it will be fascinating to watch as ZIVA graduates take on the "Africanization" of a diverse array of international products and promotions.
Check out Mafundikwa's speech at TED here on the brilliance, sophistication and graphical inspiration of ancient African alphabets: