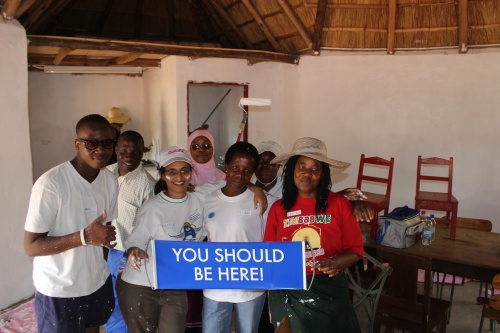 WorldVentures Foundation Partners with Good Shepherd Trust for Children in Zimbabwe; Marks First International Service Day in Region

WorldVentures Foundation™ (http://www.worldventuresfoundation.org), a subsidiary of WorldVentures (http://www.worldventures.com), today announced that it aligned with the Good Shepherd Trust for Children in Zimbabwe to help its project, the Good Shepherd Children's Home, of providing a safe refuge for orphaned and disadvantaged children in the Harare area. Together, the organizations helped to refurbish and paint the main house and three buildings on the property. This initiative was part of WorldVentures Foundation's first "Service Day" in Zimbabwe.
"We hope through the collective efforts, we have made a real impact for the children and community of Zimbabwe," Gwyneth Lloyd, Executive Director, WorldVentures Foundation said. "Nearly 100 volunteers spent over 500 hours in partnership with the Good Shepherd Trust for Children in Zimbabwe, marking the Foundation's first international Service Day."
What resulted was the "crowning achievement" for the Home, Nick Beer, Co-Founder and Trustee, the Good Shepherd Trust for Children in Zimbabwe said. "The Home looks splendid and is now a fitting place for young ladies, and a few young men, to grow to adulthood. All contributors should take immense pride in the results of their hard work."
Through their work with the Home, Beer continued, the WorldVentures Foundation is furthering their mission of creating change on a global scale for children.
The Service Day in Zimbabwe is one of many efforts by the WorldVentures Foundation to support children, families and underprivileged communities throughout the world.  Other recent service projects have taken place in Mexico, Liberia and Guatemala.