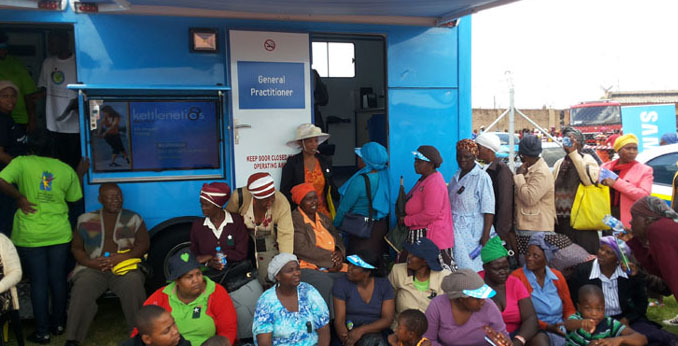 Samsung Electronics Africa's innovative new Solar Powered Health Centre boosted the recent Mokopane  community wellness day by providing free diabetes testing and counselling.
Samsung Electronics Africa's innovative new Solar Powered Health Centre went on the road again this month, delivering free diabetes testing and counselling at the Folang Medical Centre's Folang Trust Wellness Day, at Mogalakwena in Mokopane (Limpopo Province).
The Wellness Day, staged at the Mahwelereng Stadium on 10 November, was the Folang Trust's second Diabetes Outreach Programme, themed: "Conquering Diabetes through Prevention and Education". The event, ahead of World Diabetes day on November 14, was held to raise awareness of diabetes in the Mogalakwena municipality.
Kea' Modimoeng, Public Affairs Manager at Samsung Africa, said a lack of access to medical facilities and a lack of financial resources often meant that people in under-serviced and rural areas waited too long to seek treatment for potentially serious health conditions such as diabetes. "With the Centre for Diabetes and Endocrinology warning that around three and a half million South Africans suffer from diabetes, and an estimated five million more have pre-diabetes, early identification and proactive treatment is critical. Through initiatives such as the Samsung Solar Powered Health Centre, we are now able to take this advanced medical care to them, enabling early identification and potentially lifesaving treatment," he noted.
At the invitation of the Folang Trust and local officials, Samsung's Solar Powered Health Centre, staffed by medical doctors, was on site to conduct screenings and examine patients. The mobile units, launched in March this year, are equipped with advanced medical equipment and mounted on trucks for easy transport from one area to the next.
Samsung has designed them for use them in rural and underserviced areas, to eliminate the economic and geographic barriers that prevent people across Africa from obtaining quality medical treatment. A large focus of the mobile units is on screening people to establish conditions such as diabetes, high blood pressure, tooth decay and cataracts. The centres will also focus on educating communities about health issues.  Samsung has set itself a goal to reach one million people through its Solar Powered Health Centres by 2015 as part of its broader CSR goal to positively impact the lives of five million people in Africa by 2015.
The Folang Trust Wellness Day seeks to create awareness in the community of the 'epidemic' proportions of diabetes. Dr. P.J. Senoamadi, founder and chairperson of the Board of Trustees at the Trust says, "More than 6 000 disadvantaged lives were touched with the support of diabetic educators. Samsung made this possible by allowing us to use its Solar-Powered mobile clinic at no cost."
The Solar Powered Health Centres are in line with Samsung's shift from focusing on 'corporate social responsibility', which is underlined by corporate accountability towards a new approach driven by the desire to create 'Common Shared Value', and underlined by both profit maximization and improving people's lives. This means that all of its education, health and community development programs will serve a dual purpose: supporting the company's business goals through the development of a skilled, healthy workforce and consumer base, while at the same time improving the lives of people in Africa.