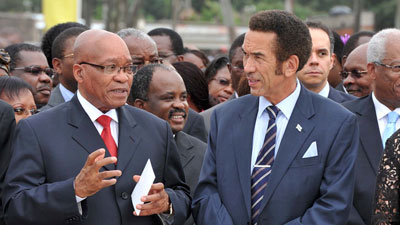 President Jacob Zuma will on Thursday host his Botswana counterpart Ian Khama for a visit aimed at strengthening and deepening the existing historical relations that exist between the two countries.
Zuma and Khama will preside over the inaugural session of the Bi-National Commission (BNC) which they established last year.
The BNC is a framework for cooperation, which elevates the two existing bilateral co-operation frameworks, namely the Joint Permanent Commission on Co-operation (JPCC) and the Joint Permanent Commission for Co-operation on Defence and Security (JPCDS), from Ministerial level to Head of State level.
South African companies have a huge presence in Botswana and are involved in various sectors including mining, housing, food and beverages, construction, retail, hotels and leisure, banking and medical services.
These companies continue to contribute to the growth and development of the neighbouring Botswana economy.
Meanwhile, Zuma is also scheduled to visit Ghana for a state visit, where he will hold talks President John Mahama. The visit scheduled from 26-27 November is Zuma's first state visit to Ghana since becoming the president.
According to the Department of International Relations and Cooperation, three Memorandum of Understandings (MoUs) will be signed during the visit.
The MoUs will be on Transport Related Matters; Bilateral Air Service Agreement (BASA) and Electricity.
A business forum, which will be attended by over 150 business people from South Africa, will take place on the margins of the visit.
Relations between South Africa and Ghana have matured over the years with an increase in bilateral trade from US $32 million in 2008 to US $60.9 million this year.