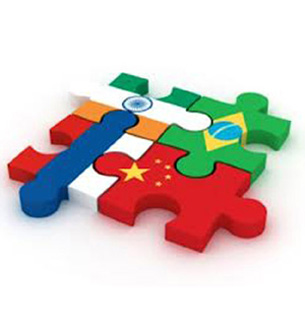 Governments from emerging economies should, to deal with challenges related to urbanisation, invest smartly in rural areas to counter the influx of job seekers to urban areas.
Speaking at the opening of the three-day BRICS Urbanisation Forum that started in Durban on Wednesday, Cooperative Governance and Traditional Affairs Minister Lechesa Tsenoli said while government would accelerate its investment in urban areas to eradicate informal settlements, government would also target poor towns and rural areas through the 18 Strategic Integrated Projects (SIPs) to eradicate poverty and inequalities.
After India hosted the first edition of the forum in New Delhi in February 2013, it was resolved that the BRICS member states – Brazil, Russia, India, China and South Africa – should find areas of cooperation to deal with food security, poverty alleviation, rural-urban migration, water and waste management, public health and sanitation.
Tsenoli said it was in these areas that the five countries needed to share information, views and to forge investment partnerships to counter challenges related to urbanisation.
Briefing journalists after his opening address, Tsenoli said: "In the latest assessment of the numbers, we have 60% of our people in South Africa … living in urban areas. And the National Development Plan predicts that by 2030, 70% or so will be living in the urban areas.
"It is a problem in the cities, in the metropolitan areas in our country, [that] there are now more poor people there than in the rural areas.
"Joburg will tell you that some of the conditions that they find people living in … is not acceptable. It's a huge problem…" he said.
Tsenoli said the provision of water, electricity and other services in many rural areas had actually led to people to go back to rural areas, with some choosing to stay there.
He said other interventions that were implemented to deal with social security, like social grants and the rollout of social low-cost housing, had contributed to people not rushing to move to rural areas post democracy, after many people were forced off their land by the apartheid regime.
"I think the bigger programmes that are now underway, such as the Presidential Infrastructure Coordination Committee, which is laying out infrastructure across the country, will contribute to [sustainable livelihoods in poor towns and villages].
"One of the requirements is that such infrastructure projects must speak to the rural agenda, deliberate rural linkages such as improving access roads, providing electricity and information communication technologies in centres, where people can go and find [ICTs] without having to go to town to access them."
Delegates from other BRICS countries said they would use the forum to share their own challenges from their own countries, and ideas on how they are dealing with them. Areas of cooperation and investment opportunities would also be explored during the three-day forum.
At an international level, ever since South Africa joined BRICs in 2010, several partnerships have been forged across national, provincial and local spheres of government, ranging from knowledge exchange to investment opportunities.
At a national level, following a meeting of BRICS leaders ahead of the G20 Summit in St Petersburg in Russia, it was decided that the BRICS-led New Development Bank would have an initial subscribed capital of US $50 billion from the BRICS countries.
A contingency reserve arrangement, as agreed in the Durban summit in March, would have an initial size of $100 billion and this would help BRICS countries forestall short-term liquidity pressures and further strengthen financial stability.