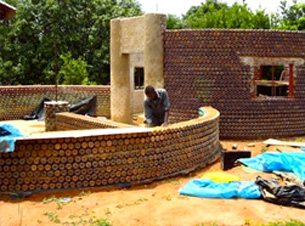 Two 'Birds' of Housing Problem and Waste Management with One Shot
Nigeria is one of the most populous countries in the world, a country rich in natural and cultural heritage and a booming economy. Yet, serious issues of poverty, environmental, health and housing problems also plague it day by day making various stakeholders break heads while trying to make the life of Nigerians better.
As the President Goodluck Jonathan has now flagged-off a construction of a N960 billion housing scheme, life in Nigeria has given other innovative ideas for tackling some of the country's challenges. Nigeria in recent years has made its steps towards eco-conservation by building its first house made completely out of plastic bottles. It seems that this time the bull's eye has been hit by creating something unique and path breaking.
In a small village of Yelwa in northern Nigeria this solution provided a shelter in a poverty stricken country, found a way to refuse high costs of construction and suggested an idea how recycling can be used to build something that many Nigerians greatly desire.
A Kaduna-based NGO Development Association for Renewable Energies (DARE) with the help from foreign experts from Africa Community Trust, a London-based NGO, has decided to put environmental hazards into a project to build an environmentally friendly house made from plastic bottles.
According to DARE, drinking tap water is considered unsafe in Nigeria. Many people, therefore, prefer bottled water. It means that millions of plastic bottles are dumped into landfills and waterways every year causing erosion, pollution, irrigation blockages and health problems.
Many Nigerians also suffer from the lack of affordable housing opportunities. According to Nigeria's Federal Mortgage Bank, the country lacks around 16 million units that require at least $300 billion to meet the needs of the countrymen.
These issues spurred DARE to innovate and provide an example how some of the country's challenges can be tackled by transferring "one man's trash to another man's fortune."
The plastic bottle houses are insulated, sturdy and inexpensive. While the concrete foundation is laid to provide stable and firm grounds for the structure, the rest of the house is entirely made of plastic bottles. The bottles are filled with dry soil or construction waste, compacted with a stick to form a sort of 'brick' and laid down in rows. They are then bound together with mud to construct walls. The sand filled bottles are considered to make houses almost twenty times stronger than brick constructions, making them resistant even to earthquakes. At the same time, sand also insulates the houses from the heat by maintaining a cool room temperature perfect for scorching Nigerian climate. Another boasting point is the bulletproof characteristics of the house. Despite the fact that some people around the world may find this fact entertaining, for violence stricken northern Nigeria such feature may be a blessing in disguise said Yahaya Ahmad, the project coordinator, to Physorg.com. Finally, the cost of the house is considered to be one third less expensive than houses built by brick and concrete.
These houses are also designed to produce zero carbon emissions as they are to be wholly powered by solar panels and methane gas from recycled human and animal waste.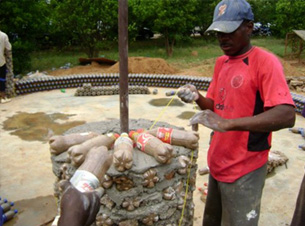 According to DARE, around 8000 bottles are used for a single house consisting of a living room, bedroom, kitchen and toilet. These plastic bottle houses are built in a typical North Nigerian circular style and look spectacular from outside with the round bottoms of the bottle exposed in the rays of the sun.
Apart from eco-conservation, the project also provides opportunities for uplifting the street children from the life of poverty by providing them with work. Instead of begging, the children can fill the bottles with soil and get paid for it.
While at the start of the program in December 2011 the project has received sceptical responses, it now counts over 20 readily-available houses that have become landmarks of attraction for spectators from across the country.
As Nuhu Dangote, a trader who travelled from the state capital Kaduna to see the house, said: " I wanted to see this building for myself as I was surprised to hear it was built from plastic bottles…the whole world should come and look at it."
According to Eco Nigeria, around 25 houses are expected to rise in the region. The project is also aiming to embark on a new stage – building of a school hall in Seluja at the Africa School of Excellence that will consist of 220,000 plastic bottles. "The project would take over 200,000 bottles out of landfills into education," said Katrin Macmillan, a British environmental activist involved in the project.
Plastic bottled houses take this dangerous waste that takes hundreds of years to biodegrade and make it useful in ways of housing, employment, environmental protection and health. While Nigeria has already embarked on a path of reaching eco-friendly solutions to its challenges, it can become a model for other African countries how eco-conservatism can provide a combined way out of many African problems. While the project up to date remains limited in its extent, it still lights possibilities for Africans to shoot two, or as a matter of fact, even more birds, with one shot.