After a series of business failures, Jason Njoku stumbled upon an idea that turned him into an African start-up icon. Realizing that no one had capitalized online on the enormous popularity of Nollywood films, he teamed up with a friend from the University of Manchester, Bastian Gotter, to found iROKO Partners, which licensed and streamed movies on a YouTube channel for Africans at home and abroad.
That was in December 2010.
Just a year later, the company launched its own dedicated streaming platform, iROKOtv. Receiving high praise from Africans worldwide, viewers and media quickly dubbed the company, "Africa's Netflix."
Offering the vast majority of its content free-of-charge, iROKOtv earns revenues through a subscription service called iROKOtv Plus, which provides subscribers with access to new Nollywood films for only $5 per month, as well as advertising revenue, in-flight and other licensing, and DVD sales. The company's business model is considered so appealing, in fact, that it has already received $8 million in investments from Tiger Global and another $2 million from the Swedish hedge fund Kinnevik. As the company continues to grow, Njoku and Gotter have also opened up an investment firm, SPARK, which finances and helps to grow tech start-ups in Nigeria, such as Bus.come.ng and ToLet.com.ng.
This week, AfricanBrains interviewed Njoku to find out more about the technology behind iROKOtv, just what kind of licensing deals the company has secured, how the company uses technology to address pressing social issues in Africa, and how his team has managed to successfully market the platform among Africa's local and diaspora audiences to achieve over 500,000 subscribers in under five years.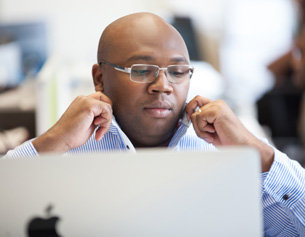 iROKOtv was named YouTube's biggest partner in Africa in 2011. What is the technology behind iROKOtv at the moment? Does iROKOtv still use this video-sharing platform to host films?
When we secured our first round of funding from Tiger Global back in 2011, we were able to build our own VOD platform – www.irokotv.com. We still use our original YouTube channel, NollywoodLove, but this is mostly for trailers and we don't upload new movies onto the channel any more, they all go on to iROKOtv.
What licensing/distribution arrangement has the company reached with Nollywood? Is the licensing exclusive, signed with individual directors/producers, or with production companies?
We sign exclusive license agreements with producers. We sign licenses with the film's producer and, depending on the deal, for some movies we just hold the online license, but for others, we have TV, DVD distribution or in-flight licenses. Each deal is structured slightly differently.
iROKOtv has been referred to as "heavily Nigeria- and Ghana-centric" as per its film content. Could you talk a bit about the breakdown of your viewership by country?
We cater for a Diaspora audience who like Nigerian and Ghanaian films, hence we're known by many as the Netflix of Africa. The majority of our audience is still based in the UK and USA. More people watch iROKOtv in London than the whole of Nigeria, although that is due to Internet accessibility still being low in the country. We're also very popular amongst Diaspora and audiences in Europe, Canada and Malaysia. We also know that Nollywood is popular amongst Caribbean audiences.
How do you market iROKOtv in Africa and internationally? How do these approaches differ?
Word of mouth seems, so far, to have been our best form of promotion. People love our site and tell their friends and family about it. We've used Facebook to promote ourselves quite extensively as well, and we also look for regional marketing outlets. For example, in South Africa we know that Mxit is very popular, so we have a dedicated Mxit iROKOtv page for our fans out there.
What have been your "most educational" failures as a start-up founder?
Read my blog – www.jason.com.ng – and it's much like an A-Z of learning from business failures. Before I started iROKOtv, I had approximately 10 failed businesses behind me. I've learnt along the way – self-belief, resilience, when to force things through and when to take a step back and consolidate what I have.
It's been said that Nollywood's "output," as far as Nigerian films are concerned, in no way reflects Nigeria's diverse linguistic composition. One would imagine that iROKOtv could play a powerful role in promoting minority-language filmmaking. Has the company considered promoting minority-language films? More broadly, how does iROKOtv operate presently as a socially responsible tool for Africa?
iROKOtv has English, Yoruba, Igbo and  Ibiubo movies online, which is relatively representative of the country's largest groups. We haven't been offered any other minority-language films, as far as I'm aware. I'd be interested to watch some and see if they would be of interest to our core demographic. That being said, we have to make sure that our movies are as accessible to as wide an audience as possible.
We recently uploaded MTV's Shuga onto iROKOtv, it's a hard-hitting TV series that looks at issues surrounding HIV and AIDs. It's a great series and allows us to explore socially responsible issues whilst simultaneously entertaining people. First and foremost, iROKOtv is an entertainment platform – escapism through movies and TV series.
How do iROKOtv's revenues break down? How rapidly is iROKOtv's free/paid subscriber base expanding?
Our revenue is broken down into ad revenue, TV, and in-flight entertainment licenses, DVD sales and our paywall, iROKOtv PLUS, which launched on July 1 last year. Our PLUS service has seen strong growth over the last 17 months and in October of this year generated more monthly income than our ad sales.
Check out iROKOtv: www.irokotv.com.
Learn more about Njoku and Gotter's investment firm here: www.spark.ng.