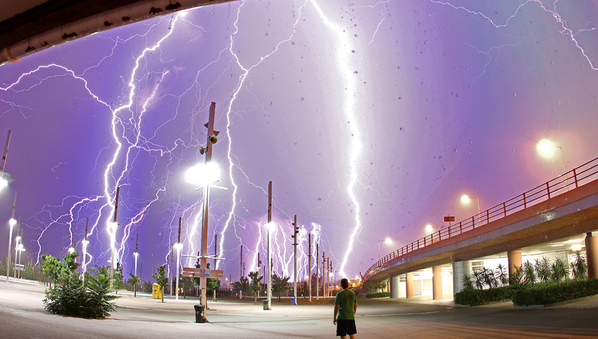 By Charlotte Owen – SciDev.Net
An alternative to costly radar-based weather services could soon be operational in developing nations, to help them detect severe storms more cheaply and quickly.
The technology, which uses lightning detection to forecast when and where storms will strike, has already proven successful in demonstration projects in Brazil, Guinea and India. Next year, Earth Networks — one of the companies at the forefront of the technology — will conduct further trials in Haiti.
As more developing nations increase their numbers of mobile phone masts, which are ideal locations for mounting the lightning sensors on, the proportion of countries using the technology looks set to increase, according to the US company.
Lightning detection costs a fraction of traditional Doppler radars, which can cost tens of millions of dollars for broad regional coverage.
"Data from these stations would fill the gaps encountered in the collection and exchange of data on the regional and international level."

Mamadou Lamine Bah, National Directorate of Meteorology
It also collects data faster and, by monitoring precipitation, can be used to assess the likelihood of floods and drought. According to Finnish company Vaisala, which has more than 100 lightning detection stations located in the United States, when lightning is detected the data can be delivered in less than two minutes.
Vaisala's Total Lightning system detects the electromagnetic signals given off when lightning strikes the earth's surface. Information on the location, time, and strength of each strike, and on whether it is positively or negatively charged is then processed and communicated to users of the technology.
Earth Networks also uses cloud computing capabilities and algorithms to provide automated alerts for thunderstorms, tornadoes and other forms of severe weather, which can be configured to be sent to mobile phones.
The company foresees these alerts being delivered to millions of mobile phone users around the world. In cases of severe weather with lightning, the notifications have been shown to "alert 50 per cent faster than warnings based on other technology currently available, providing 27 minutes, on average, of lead time," according to Earth Networks.
Bob Marshall, the company's president and CEO, tells SciDev.Net that the company now has more than 50 antennas covering most of Brazil and 50 more covering all of India, and, most recently, has installed sensors on 12 mobile phone masts in Guinea.
"These countries have very little infrastructure to support weather observation forecasting and warning, and the technology that has been tried out over the last decade has failed — a lot of money has been spent," says Marshall.
This year they "picked what should be one of the hardest countries to do this — Guinea — and it's working tremendously well," says Marshall. Guinea is part of the world's stormiest area, but has no meteorological radar to track storms. In September, a dozen people died because of severe weather, including five from lightning in the Koundara Prefecture in Northwest Guinea.
Mamadou Lamine Bah, director of Guinea's National Directorate of Meteorology (NDM), tells SciDev.Net: "After evaluating this technology for three months, we could follow the formation of the most dangerous weather events in Guinea".
"The results from the demonstration project are very satisfactory," he adds. "Data from these [lightning detection] stations would fill the gaps encountered in the collection and exchange of data on the regional and international level."
According to Bah, the network of meteorological observation stations within Guinea does not meet international standards, because of a lack of equipment and inadequately qualified staff.
"Guinea and other African countries need alert systems and high-performance tools and personnel for their meteorological services," he says.
According to Marshall, "based on what countries around the world are seeing happening now in Guinea we are receiving a lot of interest in the technology". However, at this time he is unable to disclose which countries have expressed an interest.
Earth Networks' lightning detection systems started out principally in the United States; the National Aeronautics and Space Administration, National Oceanic and Atmospheric Administration and the US Air Force all use the data from its lightning network and technology.
See below for a video about Earth Networks' project in Guinea: