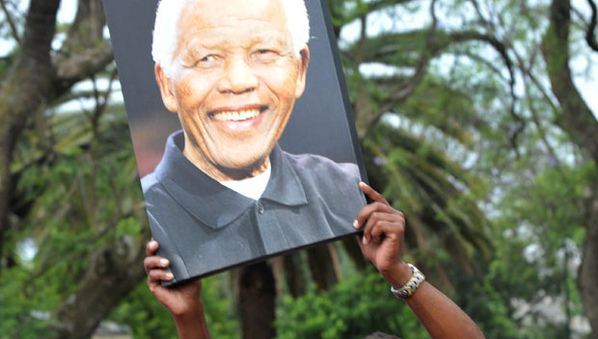 By Munyaradzi Makoni and Helen Grange – SciDev.Net
Scientists have said that Nelson Mandela, the first black president of a democratic South Africa who died on 5 December aged 95, brought an educational environment in which science could thrive, especially for blacks.
The apartheid regime, a racial segregation system enforced through legislation by the white rule in South Africa from 1948 to 1994, gave limited rights to the majority black people.
Mosibundi Mangena, the country's first black minister of science and technology who served under President Thabo Mbeki, tells SciDev.Net that the establishment of a democratic state had a profound effect on science in South Africa because it created an environment in which all citizens could pursue science as opposed to the race-based apartheid restrictions.
"We will humbly try to continue following in his footsteps in the enduring quest to make our world a better place for all."

Salim Abdool Karim, South African Medical Research Council.
Mangena, currently a fellow of the Stellenbosch Institute of Advanced Study in South Africa, was a young prisoner at the Robben Island with Mandela.
Under apartheid, Mangena says South Africa became a hotbed of violent repression, economic and political isolation, which extended to global scientific participation.
Simon Connell, physics professor at the University of Johannesburg, South Africa, says that the country would not now be participating strongly in the process of science if democracy and reconciliation had not been ushered in by peaceful negotiations.
Connell says that education was a preserve of the white and blacks were excluded from the process of science, learning and research.
He adds that the science system itself was non-transparent and manipulated to feed the survival of a militarised nation against the black.
Salim Abdool Karim, president of the South African Medical Research Council, says: "To all of us involved in medical research, we have so much more to do in fulfilling his [Nelson Mandela] dream. We will humbly try to continue following in his footsteps in the enduring quest to make our world a better place for all".
Jean Lebel, president of the International Development Research Centre, Canada, says Mandela aided research conducted in the early 1990s by some of South Africa's brightest minds, which helped prepare the ground for a peaceful transition to democracy.
"This could only happen because Mandela was a pioneer in using research to transform a country," he tells SciDev.Net.
Calestous Juma, a development expert at the US-based Harvard University, wrote in the New Scientist that Mandela helped create a new generation of African institutes of science and technology, seen as the beginning of a new generation of African research universities.
Two have already been established in Tanzania and Nigeria and a third is planned in Burkina Faso.
Mandela also had a dream for a high school in his birthplace, Mveso.
The Mandela School of Science and Technology — Mandela's brainchild for his birthplace and built by Siemens, a German engineering company — offers better opportunity for children who often drop out after basic education.
This is the fulfilment of Mandela's dream of building a high school for his people, according to Peter Loescher, former president and CEO of Siemens.
"This initiative can change the lives of this community forever, and there will be a high demand for places in the school," says Mandla Mandela, the chief of the Mvezo Traditional Council and Mandela's grandson.
The school will admit its first batch of students in January 2014 for grades 8-10, and will be at full capacity by 2016 with students in grades 8-12.
But Connell says that although the contribution of Mandela to democracy in South Africa paved the way for South Africa's scientific renaissance, it has been only at the tertiary level.
"It is imperative, as supported by Mandela's clear order, that the basic education system experiences a similar renaissance," Connell adds.
This article has been produced by SciDev.Net's Sub-Saharan Africa desk.