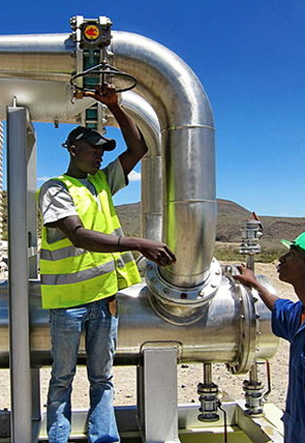 Geothermal Energy a Priority in 2014
Brookings Director of the Africa Growth Initiative Mwangi S. Kimenyi and Josephine Kibe, guest scholar with the programme, markedly stated that for East Africa and the leading geopolitical stewards within it to achieve a sustainable forward economic trajectory, Africa requires major investments in three "I's": institutions, integration, and infrastructure.
The East African business of energy innovation is beginning to turn investor heads with a collective view towards these three "Is" and dynamically amplify economic confidence while doing so. The Kenyan market (East Africa's biggest economy, expected to expand by 5.9% from the 2013-14 fiscal year), is notably awash in the speculation of rapid autonomous growth, given the recent deep-dive oil finds, and is presently seeking stakeholders to develop three power plants in order to utilize steam energy in the Rift Valley, according to the state-run Geothermal Development Company (GDC).
South Africa's Business Day has additionally reported that the GDC expect to drill up to 120 wells as but a first phase of the project.
According to the report, "…a period of 24-36 months will be provided for power plant construction". During this initial period, the report made clear that risks would need to be taken and investors would be required to provide 60%-80% of the capital autonomously.
Investors that qualified would be expected to raise at least $400m for said development from within the private sector and dishearteningly, the government would not be able to provide fiscal guarantees at present time.
However, key representatives of the Kenyan government in November of 2013 notably documented that the nation's energy ambitions and mutually beneficial opportunities within the sector far outweigh its risks and will warrant international commentary and support. There are plans in place to add 5,000MW to the national power output by 2017 in order to unleash even more rapid economic growth, aiming to halve the cost of generation within the next half-decade.
Geothermal energy requires a large initial investment and will undoubtedly garner scrutiny from the off-set, mainly due to the initial expensive drilling of wells, but is more reliable than rain-fed hydropower generation in periods of drought, ecologically safer and, in tandem with the deep dive finds of 2013 that have begun to inundate the economy with fervent oil wealth speculation, will amplify the Kenyan and indeed East African integration opportunity for years to come.