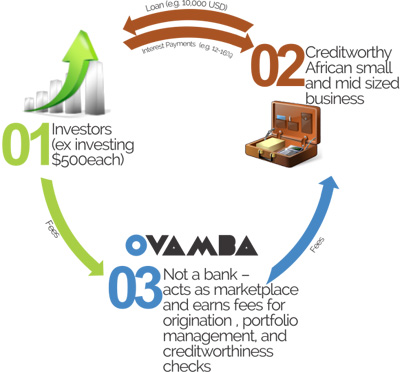 Linking underserved borrowers to lenders – and capitalizing on the huge opportunities provided by African small and medium enterprises. In a nutshell this is the ambition of Ovamba, a US based investment boutique managed by a group of African experts and finance professionals.
The company is following in the steps of more established industry players in the US domestic market like LendingClub and Prosper, which essentially offer alternative platforms to traditional banking options for borrowing and investing financial capital. Of course, Ovamba focuses strictly on African markets, and its team is made up of highly experienced professionals from Africa and the United States who understand the local business environment quite well.
Viola Llewellyn, COO of Ovamba, shared some insights with us regarding the exciting investment prospects to be had in Africa. In her own words – "We are very much modeled after industry leaders such as LendingClub and Prosper. We are different from them in that we are focused on the Africa Market and our management team is comprised of Africans and African experts. Our other main differentiator, is that we understand the real capital needs of African entrepreneurs.
Ovamba estimates that approximately 24 million small and medium enterprises in Africa are underserved by banks, while African communities abroad have an average yearly amount of available financial capital which surpasses 90 billion USD.
Through a proprietary 3 step underwriting process that includes traditional, social media and qualitative metrics to vet loans, this
start-up utilizes a comprehensive and tailored approach to create a world class loan risk management methodology for African investors and SMEs. Their business model also has a specific target range which it is trying to serve.
As noted by again by Llewellyn – "Unlike Kiva, we are not focused on the micro-finance end of the SME pool. We believe that the mid to upper range of the SME sector requires servicing. This sector is looking for loans upwards of $10k – $20k."
Another key component of this innovative work, is that it strives to better connect those closely familiar with the cultural and local attributes of these markets (mainly diaspora networks abroad) with underserved borrowers. Ovamba also believes that diaspora networks ought to play an integral part in facilitating alternative investment mechanisms in their countries of origin – after all, these communities are uniquely positioned to fully comprehend local business conditions.
Furthermore, through Ovamba's credit evaluation method, small enterprises in need of credit can utilize their social connections in African diaspora networks abroad to strengthen their credibility and attract investors. At times, members of the diaspora familiar with these enterprise can even act as co-signers or guarantees if necessary, thereby increasing the chances of financing opportunities for these African borrowers.
And there is more to it – solidifying the rapports between these borrowers and their respective diaspora networks can provide a sustainable and profitable mechanism for both parties involved.
Llewellyn – "We focus on ROI to the Diaspora and institutional investors. Capital makes its way to Africa but a truly functioning market requires a cyclical movement of capital with defined inflows and outflows. We are committed to creating products and services that fit the African business owner in his or her African market. Hence we reject some of the Western Quantitative methods of risk assessment."
While a growing trend, investments in SMEs in developing and emerging African markets still remain somewhat sporadic. Informational asymmetry still constitutes a serious barrier for potential investors, which often find it difficult to properly assess the risk profiles of many small and medium enterprises with good fundamentals and promising potential.
Finding new and better ways to assess risk in developing markets, particularly Africa, is a most welcome and needed exercise. In marginalized market contexts, non-traditional methods of raising capital are often prevalent as a result of poor access to financial services at affordable rates. Ovamba believes that the high rates of borrowing money through such methods can be significantly lowered, as long as lenders and borrowers can better understand each other, and the contexts in which they operate.
This is why in addition to evaluating financial performance, credit history, secured loans, and industry performance, Ovamba also utilizes both social media and email metadata to better assess the credit worthiness of potential borrowers. Understanding how communities interact with each other is crucial, and modern interactive platforms can significantly increase the efficiency of risk evaluation methods in less advanced settings, creating additional potential for investment inflows into Sub Saharan Africa.
I suspect that Ovamba has inspired a new wave of problem solving initiatives in the African investment field. One more exciting journey to witness.