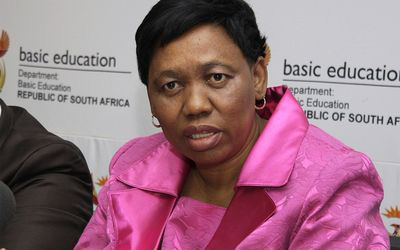 The Minister of Basic Education, Mrs Angie Motshekga will be attending the Education World Forum in London with education leaders, Ministers and experts from around the globe.
The conference will provide the opportunity for stimulating discussions and exchanges with their fellow participants.  The UK has been hosting the EWF for several years with a view of developing consensus on education policy across nations.
The theme for the 2014 meeting is "Planning for 2015; policy-making catalyst for a decade ahead: measurement, reach and enterprise".
The Forum brings together delegates representing over 75 per cent of the world's population to share ideas, form collaborative links and discuss education policy.
The Minister will make a presentation on South African experiences and engage in discussions with renowned leaders and keynote speakers.
The programme takes place over three days where the Minister will engage fellow Ministers and experts to benchmark and share national policies and practices with peer countries around the world.
While in London on the side-lines of the EWF the Minister will meet with the British Council to sign a declaration of Intent between the two counties. The ground breaking declaration speaks to a partnership on the training of teachers for English as a first additional language in a bid to improve literacy in English as a second language as well as the language of learning and teaching.
The signing will take place on 22 January 2014, 10h30-11h30, at the London Marriot County Hotel.
For more information, please visit www.ewf2014.org or contact:
Rachel Womack or Sue Murray
+44 (0)1932 829077
+44 (0)7595 299 618 – +44 (0)7789 993304
Rachel.Womack@ewf2014.org