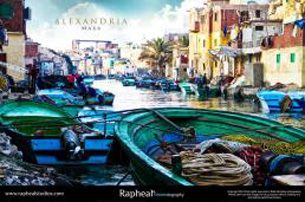 For School Children in Upper Egypt and on Facebook

Cairo, Egypt – As part of its continuing efforts to engage the community, Crédit Agricole Egypt launched a children's art competition under the title "Egypt through the Eyes of its People" where it invited students at the community schools it supports in Upper Egypt, in cooperation with Misr El Kheir, to submit drawings depicting how they see Egypt.
The concept was to provide these children with the opportunity to express their vision for the country through art. Children are the future of the country and involving them in Egypt's present and crafting the country's future is the key way to build a new generation that is capable of making a difference and realizing the dream of strong and capable Egypt.
"We launched this competition out of the bank's belief that our role in development should not be limited to providing financial support for these community schools but we also have a bigger role to play towards the creative development of these children and empowering their abilities and even their imaginations," says Crédit Agricole Egypt's Chairman and Managing Director Mr. François-Edouard Drion.
Crédit Agricole Egypt is offering each child who participated in the competition gifts and educational toys. The bank will also select some of the drawings to be used by Crédit Agricole Egypt in its annual publications as a way of honoring these children and their vision for tomorrow's Egypt.
Also, as part of the bank's belief in the importance of encouraging creativity on a wider scale that includes its clients and other individuals, Crédit Agricole Egypt also launched a photography competition under the same title for its Facebook users. The idea was to creatively reaffirm the beautiful identity of Egypt visually. Facebook users were asked to submit their photographs of various areas in Egypt. The bank will select some of the photographs to also be included in various publications by the bank during 2014.