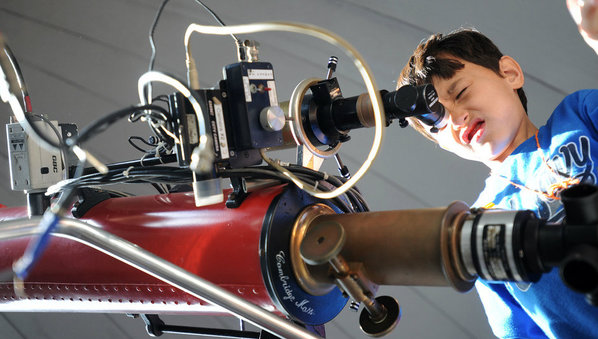 By Pierre Lena – SciDev.Net
Pilot projects are paving the way for a science education 'revolution' to nurture reasoning skills, says Pierre Léna.
For about a century, basic education in the developing world has focused on improving reading, writing and counting. But since science and technology are now key for human development, reasoning skills should be added to the mix.
The natural science component of curriculums is a powerful tool to develop these skills — benefiting all children, no matter what their professional future. It can provide new opportunities for their potential intelligence and creativity to develop.
This implies a revolution in how science is taught in the developing world. Pilot projects, active for about a decade, have already shown the way. Today's challenge is to convince education authorities to adopt this successful educational approach (pedagogy) and ensure large-scale implementation.
Rote learning
In primary and often middle schools in many resource-poor countries, children study the natural sciences by memorising facts. Observation and experimentation are missing from the classroom. This means students develop hardly any understanding and reasoning skills.
In addition to failing to engage students, this leads to uneducated citizens, the loss of potential talent for research and industry, and higher unemployment.
Instead, an active approach to learning is needed. 'Inquiry-based science education' (IBSE) is such an approach, and it has been shown to work. The method challenges students to investigate natural phenomena by questioning, observing, experimenting, hypothesising and debating. And it requires them to collect data, build evidence to support their ideas and develop the capacity to apply these ideas to new situations.
But in many developing countries teachers are unprepared to practise IBSE and education authorities are reluctant to accept the rationale for adopting it.
Successful pilots
For two decades, I have worked with colleagues on science education reform through the international action of the French foundation, La main à la pâte — in the process, supporting and observing science education pilot projects in developing countries.
For example, Chile's IBSE programme Educación en Ciencias Basada en la Indagación (Inquiry-Based Science Education), active since 2013, has already transformed science learning in thousands of schools, especially in poor areas. Conceived and supported by scientists, and aimed at social cohesion, the programme focuses on providing teachers with training and resources.
Since 1999, Mexico's INNOVEC (Innovation in Science Education) project has trained more than 30,000 teachers, developing IBSE methods and practices to implement science and technology in classrooms. Here, engineers are contributing to the change as much as scientists.
Since 2010, the Pakistan Science Foundation has formed a nucleus of 100 teachers trained in IBSE in an effort to counteract rote learning.
In Cameroon, one school began experimenting with IBSE in 2003. Supported by the government, this pilot gradually expanded to include more than 150 teachers and today serves as a guide to the government for a change in curriculum.
A similar pattern developed in Cambodia, beginning with three schools in 2002. As in Cameroon, an international partnership between La main à la pâte and IAP, the Global Network of Science Academies, helped to overcome the lack of local scientific support.
A taste for experiment
In all these countries, I observed the universality of children's curiosity about natural phenomena — their taste for experimenting, their irrepressible questioning, their ability to investigate, to hypothesise imaginatively and to search for the proper words or drawings or technical constructions to express their discoveries or understanding.
In all these lies the essence of reasoning skills. I have seen both girls and boys progressing towards abstract thinking through IBSE programmes. And I have seen the universality of science being happily expressed within different cultures or religions.
Teachers enthusiastically practise this approach when it is properly explained. Active scientists and engineers have a unique role to play. They can collaborate with education experts to implement IBSE. And they can convey to education authorities the subtle process by which mathematics proves theories about the world, science helps to understand nature and technology builds products using nature's laws.
Future strategies
But, beyond the necessary pilots, how can education systems in the developing world be changed?
First, developing countries, whether setting up a pilot or expanding an existing one, could create partnerships with developed countries that pursue more advanced projects targeting global transformation. Examples include PrimaryConnections, set up by the Australian Academy of Science, and La main à la pâte, established by the French Academy of Sciences.
South-South cooperation is also a promising avenue — for example, the ISTIC (International Science, Technology and Innovation Centre for South-South Cooperation) programme led by the Malaysian Academy of Sciences.
Second, while science academies or other international bodies (for example, ICSU, the International Council for Science) can promote the message, only intergovernmental organisations can influence education policies. UNESCO (the UN Educational, Scientific and Cultural Organization) should be on the forefront of this challenge.
The Programme for International Student Assessment (PISA) run by the OECD (Organisation for Economic Co-operation and Development) can provide data, such as on mathematics and science understanding achieved by teenage students.
Finally, when I see the fantastic impact that Italy's Abdus Salam International Center for Theoretical Physics has had on research development, I dream of an International Science Education Centre — supported by UNESCO and funded by developed countries.
This centre would host teacher trainers for primary and secondary education, interacting daily with high-level scientists during short stays. It would immerse teachers in science and teaching practice, and develop MOOCs (massive open online courses) to help education authorities build long-distance support for teachers — an essential ingredient for lasting change.
Systemic and sustainable changes in education require time and tenacity. The impact of science and technology worldwide, and IBSE's promise, are paving the way to make this change happen.
Pierre Léna is an astrophysicist, emeritus professor at Paris Diderot University, member of the French Academy of Sciences, cofounder and chair of La main à la pâte, and former chair of the IAP's Science Education Programme. He can be contacted at pierre.lena@obspm.fr