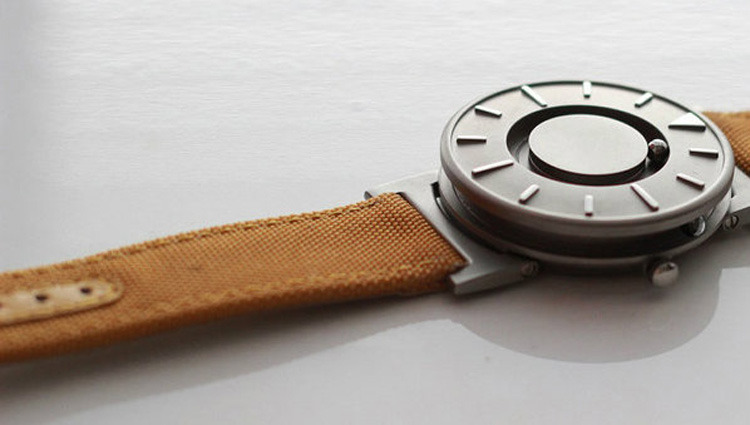 By Sue Coe – SciDev.Net
A new watch — the Bradley Timepiece — designed for blind people has been nominated for a Design of the Year award at the Design Museum, United Kingdom. According to a BBC report, demand for the watch from sighted people has exceeded demand from blind people because of its attractive design and functionality. Its designer estimates that 98 per cent of orders are from sighted people. [1]
This demonstrates an important concept that is often ignored: that inclusive, 'universal design' can benefit everyone, not just disabled people.
Universal design involves designing products and spaces so they can be used by the widest range of people possible. [2] It evolved from 'accessible design', an approach that focused on disabled people's needs. Universal design is discussed widely in disability circles, but is seldom implemented by non-disabled people who commission and design products.
Designers involved in disability products and services have tended to heavily focus on their usefulness to a specific impairment group. But universal design offers many benefits to non-disabled people too. For example, ramps and handrails on buildings benefit elderly people with mobility issues and parents with young children in pushchairs. And clear signs make it easier for everyone to navigate around unfamiliar places.
The Bradley Timepiece is a clear example of such functional benefits to sighted as well as blind people. One driver for its design was the stigma blind people felt at being forced to use talking watches.
Bradley Snyder, who the watch is named after, said: "As soon as I hit that [talking watch] button, it highlights me as someone with a special need. I love the idea of using the same thing that everyone does." [1]
The watch design allows users to "feel the time" from ball bearings that rotate around its face and edge — benefiting sighted and blind people who, in group situations, don't want to attract attention by checking the time on their watches or mobile phones.
It's not just non-disabled people who feel social awkwardness; disabled people feel it also, though many assume they don't. Another common misconception is that disabled people focus completely on a product's functionality. In fact, the article says the look of the watch is important to blind people. Other examples of this are emerging trends in design-conscious hearing aids for deaf people. [3]
The Bradley watch, through its confirmation of universal design principles, offers a clear rebuttal to these false assumptions: designing for disabled people need not be a specialist activity. Good, inclusive design for products and facilities can appeal to non-disabled people too. And an added incentive for manufacturers and retailers to back universal design is the resultant larger markets — and therefore improved profitability — for their products.
Sue Coe has worked in international development for 25 years across Africa, Asia, Europe and the Middle East. Now a development and disability inclusion consultant, she previously worked for World Vision, Practical Action (formerly ITDG), VSO and Action on Hearing Loss (formerly RNID). Sue can be contacted at suecoe2603@gmail.com