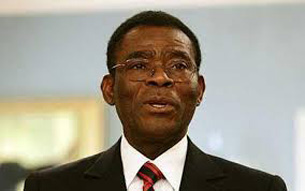 The Equatorial Guinea delegation, led by President Obiang Nguema Mbasogo, participated in the leaders session that took place at the U.S. State Department on the last day of the U.S.-Africa Leaders Summit, which is being held in Washington, D.C.
Today's agenda focused on the following leaders sessions: investing in Africa's future, where attendees held a dialogue on inclusive, sustainable development, economic growth, and trade and investment; peace and regional stability to discuss shared concerns regarding peace and security, including a conversation on long-term solutions to regional conflicts, peacekeeping challenges, and combating transnational threats; and governing for the next generation, where leaders discussed the greatest challenges and opportunities for Africa's continued political and economic progress and a specific focus on governance.
The last day of the summit will conclude with a leaders press conference. The inaugural U.S.-Africa Leaders Summit has brought African and U.S. leaders together to discuss and address issues of shared interest and mutual concern.
Equatorial Guinea's First Lady, Constancia Mangue Nsue de Obiang, joined other African First Ladies at a spousal program focused on the impact of investments in education, health, and public-private partnerships, which was hosted by the United States First Lady Michelle Obama, in partnership with former First Lady Laura Bush and the Bush Institute. The program is being held at the John F. Kennedy Center for the Performing Arts.
On Friday, August 8th, Equatorial Guinea will host an economic forum where Minister of Mines, Industry and Energy Gabriel Mbaga Obiang Lima will speak about progress in the country and discuss the ways the global energy market is changing and companies are looking outside of traditional Western markets to identify new and emerging economies. The transformations happening in Equatorial Guinea provide a snapshot of what is happening across the African continent and throughout most of Asia.
In the last several years, some of the world's largest resource exploration companies, Marathon, Exxon Mobil, Noble Energy and many more, have laid the foundation for development and economic growth in many other aspects of the Equatorial Guinean economy. The growth of the Equatorial Guinean economy benefits more than just the business community in the country. It trickles down and is having a positive impact on the entire population in the form of improved infrastructure, healthcare, and education systems. With the essential infrastructure in place, President Obiang is working to transform more than just the economy of Equatorial Guinea.