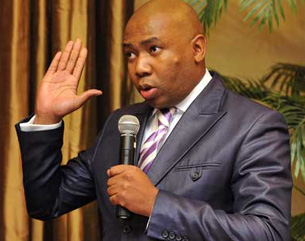 Deputy Minister of Higher Education, Mduduzi Manana, has urged students to live a healthy life by getting tested and knowing their HIV status.
He said students are the next labour market and they have to ensure that they live a healthy lifestyle so that they can be able to grow the economy and live a better life.
The Deputy Minister was speaking during the Activation of the Higher Education and Training First Things first HIV and Aids Programme at Central Johannesburg Technical and Vocational Education and Training (TVET) College, in Alexandra Campus.
"We want you to test. If you test positive, you can still live longer, if you test negative, we then encourage you to stay negative for as long as possible so that we can be able to defeat the scourge once and for all.
"Don't be an additional burden to your family because your family is looking at you to take them out of poverty since you are at college…don't disappoint them. Being a young adult comes with responsibilities, so you need to protect yourselves," the Deputy Minister told students.
Now in its fourth year, the First Things First campaign encourages students to take responsibility for knowing their HIV status. This is a necessary step towards treatment, care and support and preventing new infections.
The purpose of the programme is to contribute to the National Strategic Plan on HIV and Aids 2012-2016 which seeks to eradicate the scourge in institutions of higher learning.
The programme focuses on voluntary HIV and Aids and Tuberculosis testing aimed at students as well as pre and post counselling and other related educational programmes.
In April this year, the Deputy Minister launched the 2014 First Things First HIV and Aids Programme in Goldfields TVET colleges, where he spoke to more than 1000 students on the importance of testing. The launch saw 700 students tested on the day and received pre and post counselling.
Deputy Minister Manana explained that they have since moved from the launch and conceptual phase for the project to actual implementation and activation of the programme.
"The programme in the TVET sector is not only designed to benefit students and staff in all the 50 colleges across every district and provinces across South Africa, but also to provide them the opportunity of healthy and long life that will benefit them and their families, economy and a nation as a whole. This is the next labour market and we have to ensure that they live a healthy lifestyle so that they can be able to grow the economy and live better lives," the Deputy Minister said.
The initiatives like First Things First, he added, are being introduced because government wants to secure a bright future for the nation.
Deputy Chairperson of the South African National AIDS Council (SANAC), Steve Letsike, said the launch of the programme at the college takes place at a time when SANAC is intensifying the HIV, Counselling and Testing (HCT) campaign in communities.
The campaign, which was launched by President Jacob Zuma in 2010, encourages people to get tested and know their status.
"Since the launch of the campaign, over 20 million have been screened and tested for various diseases. However, our goal is to ensure that people get tested at least once a year and therefore we must find ways to sustain this momentum in our communities. A healthy economy requires a healthy population," said Letsike.
She also highlighted that FET colleges are community's backbone and if one talks to the students, they would spread the message to the entire community.
Alexandra Campus Manager Jeff Sibeko urged all students including the staff to embrace the initiative with both hands and avail themselves for testing and counselling.
"We appreciate what the government is doing for the people of South Africa. We fully appreciate this because it is of great importance to our society," said Sibeko.
President of the Student Representative Council, Mahlatse Ramatapa, who tested on the day and proudly confessed that he takes the HIV test every year, stressed the importance of one knowing their status as young people are always at the risk of contracting the disease.
"HIV does not only affect you, but the rest of your family become affected, stand your ground to avoid contracting the disease," said Ramatapa.