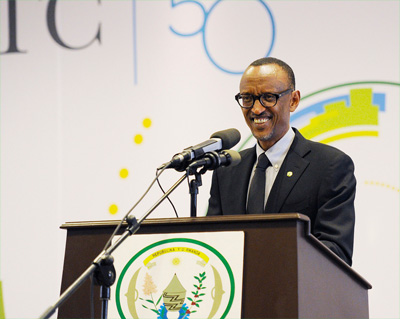 Africa is open for business. This was the unanimous message from business and government leaders attending the World Export Development Forum (WEDF), in Kigali, Rwanda. The flagship event of the International Trade Centre (ITC), which was held in Africa for the first time, demonstrated that the continent is committed to trade-led development and places the rights of people – especially women – at the heart of its future.
Speaking at the closing session of WEDF, ITC Executive Director Arancha González said that the three-day conference reflected the reality of global trade. "We have seen the dynamism and synergies of South-South partners at this WEDF, including from China, India, Brazil and Turkey who have been here to talk business and do business with Africa. This reflects the reality of trade today. South-South trade represents a rapidly growing share of global trade," she said.
Ms. González noted that this year's event had been the largest ever WEDF, with more than 1,200 registered participants from 73 countries. She also lauded the Government of Rwanda and the co-host of the event, the Rwanda Development Board, for having ensured a successful event. "This is the first WEDF in a landlocked, small economy. We are particularly happy to have organized WEDF in Rwanda – a country that has placed trade and support for the private sector at the heart of its development trajectory," she said.
At WEDF, it became clear that the private sector has become more vocal on policy issues such as trade facilitation and addressing non-tariff barriers. Several leading business figures called on governments to create an environment more conducive to business and to ensure that business priorities are represented in government policy.
Francis Gatare, Chief Executive Officer of the Rwanda Development Board, said: "We are glad that the International Trade Centre chose Rwanda as the host of its inaugural event in Africa and its 50th anniversary."
"The forum has come at a significant time in our country's economic development, when we are doubling our efforts to build an export oriented economy. It is good to know that concrete deals have come out of it and we will follow up to ensure that these come to fruition. More so, we will continue to create a more favourable environment and double our efforts in export promotion," he said.
Ms. González said that ITC intends to strengthen the partnership with SMEs to address these issues and help them internationalize. "We are committed to focusing on deliverables. We are committed to results. We are committed to trade impact for good," she said
At the Women Vendors Exhibition and Forum, which was held in conjunction with WEDF, around 500 business-to-business meetings led to 44 letters of intent being signed, worth around US$5.5 million. The agreements included a Brazilian buyer that will sell tour packages that bring tourists to Africa for coffee sampling, eco-tourism, Nollywood, fashion and more.
Several other notable announcements were made during WEDF: The Mara Group offered its free online application to be used by Africans who seek mentors and peer-to-peer networking across Africa; KOSGEB of Turkey offered to train African governments free of charge in the development of incubators; and the Indian government encouraged African business people to take advantage of its sponsored training facilities.
During a coffee-cupping session around 1,100 cups of coffee from eight countries were served.
Closing the Kigali edition of WEDF, Ms. González announced that next year's event would be held in Qatar, in association with Tasdeer, the development agency of the Qatar Development Bank.