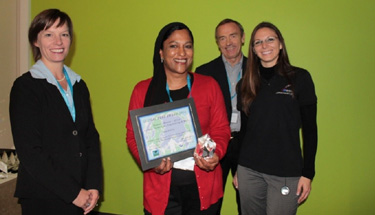 The Western Cape Primary Science Programme (PSP) was selected as the International Education Business Partnership Network's (IPN's) Global Best award winner for Science, Technology, Engineering and Maths, in the Africa Region for its professional development work with teachers – for the second year running.
The PSP is a non-profit organisation and centre for excellence in primary education. It works with over 1 000 teachers per year and aims to improve the quality of teaching and learning of the critical subjects of Natural Sciences & Technology, Mathematics, Literacy, Social Sciences and Environment Education in primary schools located in poor communities. It provides comprehensive teacher training and classroom support.
All category winners from each of the six geographic regions; Africa, Asia, Australia/Oceania, Europe, North America and South America, were invited to collect their awards and present their work at the 12th IPN Conference, recently held in Brussels.
The overarching theme of this year's Conference was Youth Employability, and delegates from around the world shared their ideas, experiences, and efforts to improve Youth Employability through partnerships between business and education. The PSP considered it important to represent Africa at this prestigious event in order to showcase South African solutions to tackling a universal issue.
Zorina Dharsey, PSP's Director, presented the Joint Mentorship Model (JMP) – a two-year cycle of support for first-time teachers, highlighting the main components: training to build novice teachers' content and concept knowledge, intensive classroom mentoring and coaching to strengthen their teaching practice, and the supply of resources they need to enrich their teaching and learning in the classroom. The 'TeachSmart' handbook also featured strongly. This handbook arose from the work of the JMP project, capturing and disseminating key points to a wider audience of novice teachers and schools.
"We observed that critical support provided to new teachers made all the difference, helping them connect pre-service theory with the context of practice more efficiently. The process helps to fast-track their professional adjustment in schools. This way positive teaching and learning in classrooms is maximised in the long term for learners," said the Director.
"The JMP model of specific, targeted support sparked much interest at the conference, and we received many positive comments regarding future roll-out and there was great enthusiasm about the 'TeachSmart' handbook. It was most gratifying and encouraging!" she said.
It became very clear that challenges around youth employability are not unique to South Africa, as many other countries such as France and Canada are facing similar challenges.
PSP is grateful to Brimstone Investment Corporation Limited for its contribution towards the costs.