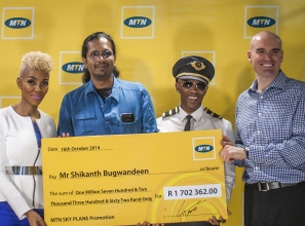 After weeks of waiting, speculation and fierce online discussions, the winner of the MTN Sky "Win A Plane" Competition was unveiled today amid much fan-fare. Durban-based Shikanth Bugwandeen was announced as the winner of the competition.
As the winner, Bugwandeen has the option of taking home the Sling 4 four-seater aeroplane or redeem its cash equivalent of R1.7 million.
He opted to redeem the cash prize and pledged to donate 10% of his winnings to charities, including Open Air School, an institution his daughter attends, which caters for children living with disabilities.
Larry Annetts, Chief Marketing Officer of MTN South Africa, selected and announced the winner in the presence of both MTN and external auditors, much to the excitement of the journalists who attended this momentous occasion at MTN head offices in Johannesburg.
"This has been a very exciting competition that has provided us with the opportunity to say thank you to our valued customers for their loyalty and support. The prize money of the competition resonates with the popular phrase: 'the sky is the limit'. We wish to thank our customers for their overwhelming response to the competition, which is testament of how we give our customers opportunities to experience unique experiences," said Annetts.
A medical doctor by profession, an elated Bugwandeen was at loss for words when he was handed over the cheque. "I am speechless and lost for words. My family does not want for anything. When MTN called me and told me that I am the winner of the competition I shrugged it off wondering: 'who gives up a plane'. I don't know what my family has done to deserve this."
Bugwandeen says he will reserve the rest of his winnings for his children's education.