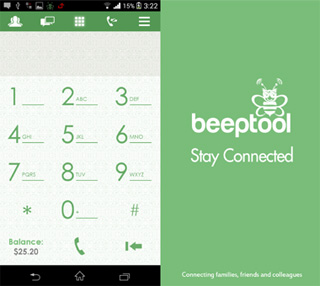 With rates less than a penny, BeepTool taps into Africa's need for inexpensive communication.
Africa has a communication problem.
Even though two thirds of sub Saharan adults have mobile phones, the rates are simply too high for many of them to get the most from their devices. Some lower cost options have emerged, including 2go and Whatsapp, but their usefulness ends where the WiFi signal cuts out. WiFi in Africa is still unavailable to BeepTool, with its growing user base of more than 10,000, is making a bold bet that it can offer the classic VoIP capabilities plus extremely affordable rates to call from BeepTool to mobile phones and landlines around the world.
The rate to call a mobile phone in the UK from Africa, for example, is less than US$0.01. "Our argument is that if people could stay on WiFi 20 percent to 80 percent of their time or have already paid for data on their GSM provider, why should they also pay high rates for voice calls?"
That's John Enoh, founder and CEO of BeepTool, who grew up in rural Nigeria where people still rely on their farming incomes to make ends meet. To connect their businesses domestically and to stay in touch with the diaspora, BeepTool is urgently needed.
With such low rates, though, the game he's playing is a long one. "I am not in business to make money at once," Enoh says. His revenue right now is a pittance, due to the market conscious fees. But just two months after launch, BeepTool is on course to surpass 400,000 users in three years, at which point the company will break.
http://www.mckinsey.com/sub_saharan_africa_a_major_potential_revenue_opportunity_for_digital_payments
Despite this, Enoh says, "our rates are not low enough. If it had been possible we would have loved to offer the services free. Our foremost goal is to make communication affordable and accessible to low earners who are the bulk of the African population."
BeepTool has plans in the works to dispatch ambassadors to college campuses across the continent encouraging African students to sign up.