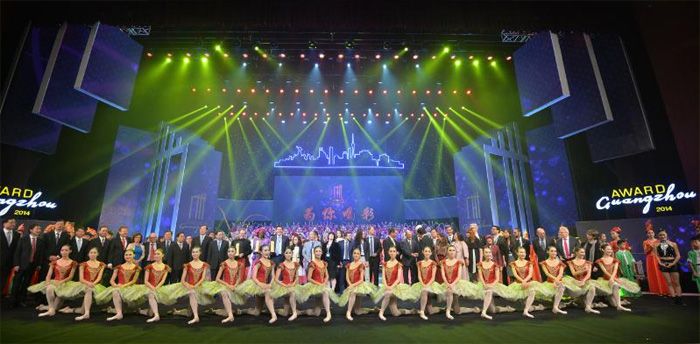 – Antioquia, Bristol, Hangzhou clinched double titles; Christchurch, Dakar also honoured for shareable and practical urban innovations
Urban innovative initiatives by Antioquia of Colombia, Bristol of the UK, Christchurch of New Zealand, Dakar of Senegal, and China's Hangzhou, or one city from a major continent, have won this year's Guangzhou International Award for Urban Innovation (Guangzhou Award).
Antioquia, Bristol, and Hangzhou turned Friday's big winners for clinching double titles by winning also one new category each: the City of Public Recommendation, the City of Media Attention, and the City of Online Popularity.
The prestigious award, which comes with a USD$20,000 cash prize, aims at inspiring urban innovation by improving the social, economic and environmental sustainability at the municipal level by sharing experiences and best practices among cities, regions and countries.
Antioquia won for its Educational Parks for All, while Bristol for its Smart City initiative.
Christchurch impressed the award judges by its Our Ever Evolving City after a series of deadly earthquakes and aftershocks since 2010, and Dakar did so by its Municipal Finance Program, the first ever Sub-Sahara African (excluding South Africa) city to access to the capital market.
Hangzhou was honoured for its Public Bike Sharing System, the first of its kind in China.
Representatives from all winning cities said it was a great honour to receive the Guangzhou Award at Friday night's gala, while Bristol Mayor George Ferguson expressed his excitement in a more impressive way.
"This is far better than the Oscar! This is about real life. This is about changing people's life," Ferguson said, winning rounds of applause.
This year's Guangzhou Award coincides with Guangzhou International Urban Innovation Conference and 2014 China International Friendship Cities Conference.
The conferences, with the theme "My City, My Dream," aim at encouraging urban innovation and promoting sustainable cooperation between sister cities.
The conferences attracted approximately 600 participants, including mayors of more than 100 cities around the world, urban development experts and practitioners, and officials from international organizations.
The five winning cities were selected from 259 submissions by 177 cities from 57 countries and regions.
The Technical Committee, an international panel comprising 11 urban practitioners and scholars, selected the 15 finalists and the winners of the Guangzhou Award, but not the three new categories.
New Categories
Antioquia's Educational Parks for All clinched The City of Public Recommendation by wining 85, or 16.07 percent, of all 528 votes from the conferences' participants.
Smart City Bristol managed to win 57, or 22.35 percent, of 255 votes from media representatives to be the City of Media Attention.
Hangzhou won the City of Online Popularity. Its Public Bike Sharing System won 593608, or 28.45 percent, of a total of 2086629 votes in an online poll for netizens around the world.
Other finalists included Abu Dhabi of UAE, Boston of the U.S., Buenos Aires of Argentina, Eskisehir of Turkey, Gwangju of the ROK, Hamburg of Germany, Jakarta of Indonesia, Linkoping of Sweden, Melbourne of Australia and Rio de Janeiro of Brazil.
Winning Initiatives:
Educational Parks for All, Antioquia, Colombia:
Building on a widely-hailed experiment in Medellin, the entire surrounding province of Antioquia has set up a network of 80 educational parks designed to supplement traditional education with programs to honor young peoples' inherent skills and citizenship potentials.
The educational programs that are being developed are designed to promote science, technology, research and innovation, connectivity and entrepreneurship, as well as arts and culture.
Smart City Bristol, Bristol, the UK:
A historic city beset by problems of congestion, an aging population, climate change and energy resilience, Bristol is making itself a place set apart by new initiatives. Bristol is a signatory to the Covenant of Mayors, the mainstream European movement involving local authorities committed to reducing energy use and emissions.
The City was awarded European 'Green Capital' status for 2015. Bristol's innovative approach to becoming a smart city is based on people and not on technology: a Public-Private-People approach.
Our Ever Evolving City, Christchurch, New Zealand:
From 2010, a series of earthquakes and aftershocks caused loss of life and extensive damage to Christchurch. The damage included destruction of 1,200 commercial building and damage of 90 percent of residential properties.
The city is using the recovery process to rebuild the social fabric as well as to enhance resilience. Extensive engagement with citizens was launched through the "share an idea" campaigns. From the thousands of responses received, the community's vision of a livable, vibrant and prosperous city began to take shape.
A transitional city program includes support for recovery in three key areas: healing and wellbeing, sense of place and business.
Dakar Municipal Finance Program, Dakar, Senegal:
With rapid growth in its urban population, a large portion of Dakar's population works in the informal sector. There was a pressing need for a central market place to accommodate its street vendors so as to improve their social and economic situation and to provide more convenient and hygienic conditions for consumers.
To finance the project, Dakar decided to access capital markets. Not only is it the first city to do so in sub-Saharan Africa (outside South Africa), it is also one of the few cities in a developing country to do so without the benefit of full guarantees from central government.
Public Bike Sharing System, Hangzhou, China:
With 80 percent of residents and commuters identifying a serious traffic problem in the city, Hangzhou launched China's first public bicycle project. Serving some 300,000 passengers daily, the system (free for the first hour) complements the city's extensive bus system.
Run by the newly-formed Hangzhou Public Bicycle Development Company, it represents a model of government-led enterprise, claimed to be the world's largest bike-sharing program that doesn't require government funding beyond initial capital. Beyond fees on bike use (imposed after an hour of use), the company raises significant private funds through selling advertising space on the bike docking station kiosks.