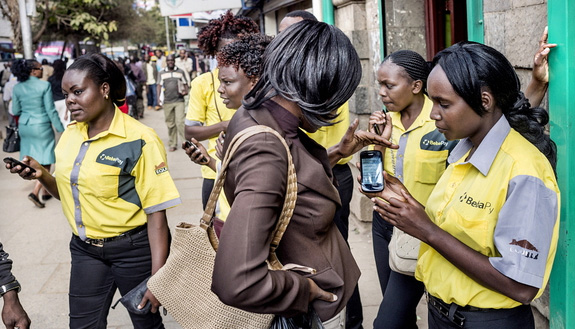 By Puneet Koliparra – SciDev.Net
NGOs could play a pivotal role in shaping how the treasure-trove of data held securely by the private sector drives global development, a UN expert has said.
Big data has a raft of potential development applications, from measuring outcomes of projects to predicting the spread of diseases. But at last month's annual conference of Bond, the UK membership body for development NGOs, Robert Kirkpatrick said that the vast amounts of data in private companies remains largely untapped for development.
Kirkpatrick, who is director of UN Global Pulse, a body that seeks to harness big data for sustainable development, says NGOs could contribute to debates about private sector data by providing examples of how they could use them for development work. He adds that until now, cheerleaders for putting private-sector data to use for development have mainly come from government institutions and firms themselves.
If NGOs became more prominent in this discussion, this would be "a new kind of motivator" for firms to donate their data, he says.
His comments follow the 6 November release of A world that counts, the report of a UN advisory panel on how data can be leveraged for development. This urges the international community to use the vast amounts of data being generated by companies, governments, NGOs and other institutions to deliver sustainable development.
The report calls for the development of data-handling standards, the sharing of technology and infrastructure, more funding for education and technology, and international leadership and coordination, particularly "brokering key global public-private partnerships for data sharing".
One reason why NGOs are not currently lobbying firms for their data is their lack of awareness of how it could help them, says Johannes Jütting, manager of PARIS21 (Partnership in Statistics for Development in the 21st Century), an international consortium that aims to promote the use of better statistics for policy making.
But Kirkpatrick points to other barriers. "NGOs will have their day, but we need to solve public-private regulatory and legal issues first," he says. "They can't even touch this data until we've figured out how to unlock it safely."
Governments must create standards and regulations for how to properly analyse and transfer data and to protect personal privacy and firms' business interests, Kirkpatrick says. Civil-society organisations also have a role to ensure government accountability with data handling, he says.
Experiments in sharing private-sector data with NGOs, researchers and others for analysis could provide valuable lessons in how to overcome these hurdles, says Nicolas de Cordes, vice-president for marketing and anticipation at French telecommunications firm Orange.
Orange and Senegalese telecoms firm Sonatel have anonymised mobile-phone use data from Côte d'Ivoire and Senegal and made it available to researchers as part of the Data for Development Challenge. Researchers dealing with such data must promise to handle information responsibly and use it for a specific development research project, he says.
Anoush Tatevossian, strategic communications and partnerships officer for UN Global Pulse, says that Belgium-based analytics firm Real Impact has also made mobile data from three African countries available to her organisation and two universities for research collaborations. These include a project to assess the extent and key drivers of mobile money adoption.