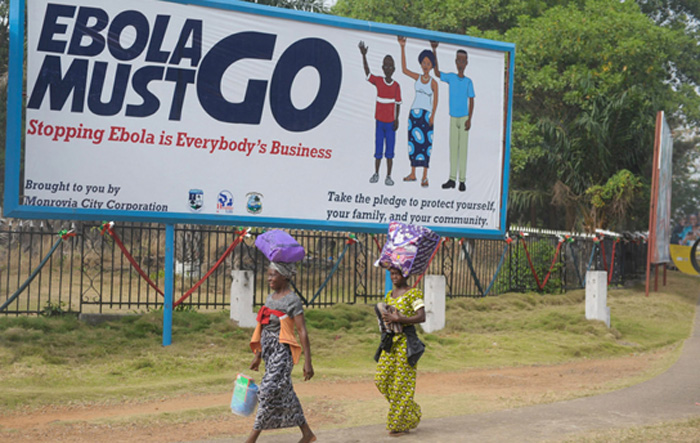 One year has passed since Ebola began spreading in West Africa, ravaging villages and local economies, and yet, amid dramatic improvements in the three most affected countries, the United Nations can now report progress in the fight against the deadly virus, Secretary-General Ban Ki-moon announced today as he urged the global community to help the region regain its footing following the unprecedented outbreak.
Delivering remarks to an informal UN General Assembly meeting on Ebola earlier today, the Secretary-General told a host of delegates and UN senior officials that his recent trip to West Africa convinced him that defeating the outbreak is ultimately possible but that the challenge remains in prevailing quickly and in minimizing overall suffering. This, he added, would demand 'collective determination and clarity of focus' by all international actors and national stakeholders.
The Secretary-General briefed Member States alongside General Assembly President Sam Kutesa, as well as Ismail Ould Cheikh Ahmed, head of the UN Mission for Ebola Emergency Response (UNMEER), and the UN Special Envoy for Ebola, Dr. David Nabarro, who both joined in via videoconference.
"Strong national leadership with local community engagement and international support is slowing the incidence of news cases in many places," Mr. Ban said. "Through all our efforts, we have learned that our response must be regional in nature to avoid a risk of re-transmission."
According to the latest data from the UN World Health Organization (WHO), the three hardest hit countries – Guinea, Liberia and Sierra Leone – have all reported their lowest weekly total of new cases in months.
Guinea reported its lowest weekly total of new cases since 17 of August 2014. Liberia has had no confirmed cases nationally for the final two days of the week ending the 11th of January 2015. And Sierra Leone has recorded its lowest total of new cases since 31 August 2014.
However, despite peaking optimism and "massive support" from the international community, the Secretary-General also urged caution, noting that Ebola remained a versatile and fearsome adversary. Pockets of the disease, in fact, are alive in certain parts of West Africa with the western part of Sierra Leone still suffering from high incidences of transmission.
"The outbreak has taught us that there is no room for complacency," he continued. "Resources continue to be required to adjust the response, monitor chains of transmission and end the outbreak."
Mr. Ban warned that his Trust Fund dedicated to Ebola response efforts had been "depleted to fund priority gaps" and he called on Member States "to sustain the tremendous momentum" achieved so far in fighting the epidemic.
At the same time, he noted, post-Ebola recovery efforts would also have to be considered in an effort to help revive those communities debilitated by the disease. "The virus has eaten away at the fabric of society," he concluded, "at how people live, how they love, how they die and care for loved ones in their final days."
"We must, collectively, take stock of how we can build longer-term resilience to withstand future outbreaks."
Echoing this sentiment, Assembly President Kutesa lauded the Ebola response for having made "significant improvements" in reducing the spread of the disease through case identification and contact tracing, isolation and treatment, as well as safe burials and social mobilization. But, he warned, the rippling aftereffects of the outbreak were "not yet over."
"As we shift from the immediacy of the initial outbreak, we must now direct our attention to the region's long-term recovery effort," he explained.
Throughout West Africa, Mr. Kutesa continued, markets for essential goods struggle to remain open, children are missing critical school time, and 'critical' planting cycles have been missed.
"The impact of Ebola is being felt all the way down to the village level," he added.
From Freetown, Sierra Leone, Mr. Ould Cheikh Ahmed, in his first briefing to the Assembly, said that in the few weeks he has headed up UNMEER, he has travelled to all the affected countries and met with their respective presidents, as well as UN global response partners and religious leaders, Ebola survivors and care workers.
Over UNMEER's first 90 days in existence, significant progress has been made in slowing and containing the world's largest-ever Ebola outbreak. "Only three months ago, the epidemic was ravaging West Africa, with 4,000 people infected [in October] alone, and caseloads were doubling every three weeks," he said, but, thanks to the global response, the most dire scenario – that 10, 000 people would be infected every week by December – the epidemic had been slowed.
"We are now beginning to see an overall decline in the number of new cases," he said, echoing the Secretary-General's feeling that the goal of ending Ebola in Liberia is within reach. At the same time, the Government is aware that it must not give in to complacency. While western areas of Sierra Leone were still seeing new cases, thanks to the response plan enacted by that country's Government, the virus was slowing its spread.
Mr. Ould Cheikh Ahmed said that much of the progress to date was due to the actions of the affected communities themselves. Indeed, those communities had changed their behaviours and djusted traditional practices that increased the likelihood of virus transmission, such as the washing of bodies of the deceased pre-burial. Further, thanks to national, regional and global health workers, thousands of West Africans now knew how to spot the symptoms of Ebola and knew what to do to prevent the virus' spread.
"The concerted efforts of the international community, the United Nations and its partners have also made a crucial contribution," he continued, adding that the common thread exposed by the virus has been a truly global response to bring it to an end. "Donors have provided nearly $2.2 billion in humanitarian assistance and many countries have provided medical teams and logistical capacities to support the response," he added, thanking, particularly the African Union and the Economic Community of West African States (ECOWAS) as well as the many national and international non-governmental organizations working on the front lines to tackle the virus.
"However…stopping this outbreak will still require significant efforts," he said, declaring that the philosophy that would guide his work from here on would be what he termed his 'three c's' approach: recognizing the leadership of the countries affected; engaging communities; and coordinating effectively.
For his part, Dr. Nabarro, addressing the Assembly via videoconference from Paris, said that he had returned just last week from his sixth visit to the West Africa region and was now visiting potential supporters to try to mobilize more assistance.
"We have heard how the outbreak has had a devastating impact on West Africa, but we have also heard positive news; this week with Mali being declared free of Ebola, yet another example, after Nigeria, Democratic Republic of the Congo and Senegal," he said, adding that the Assembly had also heard how the outbreak is evolving and diminishing in the three most-affected countries.
Dr. Nabarro said that week after week, the incidence of new cases is dropping. "And the outbreak feels different now. It's no longer a single outbreak spreading from a central point: it's a collection of 'micro outbreaks', each with its own character and specific needs," he said, likening the current state of the crisis to kicking logs on a fire and scattering the embers. "Some are burning hot. Others are dying out. So it is with the Ebola outbreak."
As such, he said the response has evolved along with the virus. It focused on being nimble, flexible and adaptable. "It's responding to the special conditions of densely populated urban areas, rural communities and border areas," said Dr. Nabarro, adding further that all parts of the response are committed to treating people with Ebola and, increasingly, to hunting the virus, wherever it is found, through rigorous case-finding and contact tracing.
"We are looking to the end of the outbreak. To supporting swift recovery; to schools, markets and businesses needed to open and open safely; to health systems being built back stronger in the affected countries and beyond," he said, adding that the response community is also looking forward to an important meeting to be convened jointly by the European Union and the UN on 3 March in Brussels, where the current state of the response and recovery would be considered.
As for what is now required to get to zero Ebola cases, he echoed other speakers stressing the need to ensure that communities are at the centre of the response; that skilled people get to where they are most needed; that coordination, led by national governments and supported by international experts, is fully effective; that there is real-time information and data on Ebola epidemiology and anthropology; and that the material and financial support is available for medical facilities, treatment, comfort, logistics and transport for all responders.